Atmos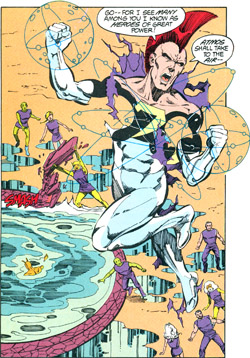 Name: Marak Russen of Xanthu
First appearance:Legion of Super-Heroes v.3 #28 (Nov. 1986)
Atmos' caused a ruckus among the Legion for some time before falling into the background. He became a full Legion member in the "Five Year Gap."
Although Thom Kallor had not been a hero on his home planet, the presence of a super-powered personality somehow made the people of Xanthu feel more secure. Thus, when he left to become Star Boy, the ruling Tribune of Xanthu ordered the planet's top geneticists to develop a super-hero. Marak Russen, a former child actor and amateur athlete, was chosen as the subject for these experiments, which attempted to recreate the comet radiation that gave Kallor his temporary Daxamite-like powers. The experiment gave Russen the powers of flight, super-strength, partial invulnerability, and an ability to tear apart and rebuild objects through manipulation of their molecular bonds. Unknown to most, he also gained the power to subvert other peoples' will. And finally, his appearance is rather odd, with parts of his chest and arms seeming to have become invisible.
Russen was given the name Atmos and the high office of Xanthu's planetary protector. He was housed and supported by the Xanthusian government in style, and provided with great publicity, which got him the immediate adoration of the people of Xanthu. Then he disappeared without a trace. (Legion v.3 #28) He had been taken, and sequestered with many other heroes by the villain, Universo. It was there that he met and fell in love with Dream Girl (though it's uncertain whether or not he was under Universo's mental control at the time). (#33) When the captured Legionnaires freed everyone from the planet and defeated Universo, (#35) Atmos went to Earth to attempt Legion membership and began a relationship with Dream Girl rather than return to Xanthu—where Star Boy had been tapped to replace him.His imperious manner and obvious extraneous reasons for desiring Legion membership led then-leader Polar Boy to reject him. (#43-46) He returned to Xanthu with Dream Girl at his side and worked in apparent competition with Star Boy for the hearts of the people of Xanthu and of Dream Girl herself. (Legion v.3 Annual #4) Dream Girl resumed her Legion membership after the Magic Wars, (#63) and Atmos grew restive.
POWERS: Atmos has control oveR matter at the molecular level. His molecular bonding power can take matter apart and rebuild it. He can also generate concussive force.
Legion 1.5 (v.4)
In the timeline following the Crisis on Infinite-Earths (no longer valid), Atmos reapplied and was accepted to the Legion after the planet had been infiltrated by the Dominion. He stayed only a short while before growing uncomfortable with Earthgov's anti-Legion stance. He resigned in search of greener pastures and learned about Dirk Morgna's (Sun Boy's) deal with Earthgov. But the Dominators who controlled Earthgov thought Russen had more potential as an experimental subject and a mindwiped stooge than as a spokesperson, and placed him in their underground chambers. They freed him only to use him as a test subject against the hunting abilities of their artificial creature BION. Atmos died at BION's hands. (Legion v.4 #21) The Dominators released a fictional story of Atmos's being killed by Khunds.
Legion 2: Earth-247
In the universe of Earth-247, which was destroyed in the Infinite Crisis, there was an Atmos who was from Xanthu, a member of the Uncanny Amazers. (Legionnaires #0) He no longer exists.