Star Boy: Earth-247 (Legion 2)
Thom Kallor was born with the power to transfer mass from the stars into any object he points at. With this power, he became a member and the leader of the Xanthusian super-hero team the Amazers and entered the competition for the title of Champion of Xanthu, which was interrupted when Kid Quantum, one of the other contestants, was chosen to represent Xanthu in the United Planets's new Legion of Super-Heroes. Quantum was killed in action shortly afterward, and Thom, code-named Star Boy, was selected as his replacement.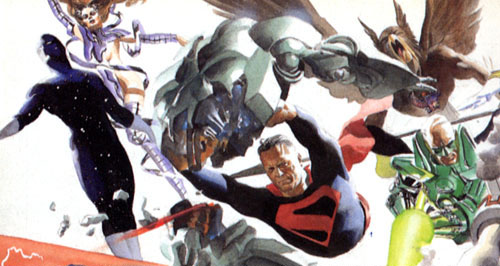 On his way to report to the Legion, Thom's ship was accidentally shot by miners and he was in the miners' hospital for several months. He was pressed into active membership with casts still on his hands at the same time as Gates as a result of political pressure on Cosmic Boy, a fact that had not met with universal approval. Also not receiving enthusiastic response from his teammates has been new powers that he developed as a result of the accident, possibly due to some Space whale meat he was secretly fed by the miners, who shot one for their own safety and did not like his protests over the fact - super-strength, x-ray vision and electrical vision - which are unpredictable and have already caused some injuries to his fellow Legionnaires. He would like to stay with the Legion, especially since Brainiac 5 has pledged to work on the new-powers problem, but the Xanthusian government decided they'd rather have him return home to reap the benefits of the honor of having a Legionnaire amongst them. He, however, preferred to stay with the Legion rather than become a political showpiece, and he won the right to stay with the Legion in a fight against his former team, much to Leviathan's dismay.
When the Legion interviewed applicants for membership following the loss of seven members through time, Star Boy became smitten with the precognitive Dreamer, who he began a romance with, despite her rejection for membership. Some months later, his enhanced powers began to fluctuate wildly, and he was suspended from active duty, giving him much more time to spend with her. However, it wasn't long after that that a stray mystical energy blast from Dragonmage stabilized his powers, leaving him with only his original mass powers, but stronger than before, and with some creative suggestions from Chameleon, he was back to being able to act as a regular Legionnaire... or he would have been, had he not gotten himself suspended for irresponsibly leaving Legion headquarters in Dreamer's hands for a while.
Following the Blight's attack on Earth, Dreamer began having persistent nightmares about them. Star Boy decided that it might help her if she were to get away from Earth, and he quit the Legion to return to Xanthu with the Amazers so he could look after Dreamer there.
Notes
Before the Infinite Crisis, it was suggested that at some point in his future, Thom would travel back to the twenty-first century, assume the alias "Danny Blaine" and operate as that era's Starman. He was supposedly the reincarnation of Opal City's Scalphunter and policeman Matthew O'Dare. All this was seeded in Kingdom Come, which was the first to name Starman as Thom Kallor, aka Danny Blaine. Since the Infinite Crisis, however, it appears that the Earth-0 Starman is the one destined for this role.
Powers: Star Boy was born with the ability to transfer mass from stars onto other objects. When he was traveling to Earth, he also acquired new powers when his cruiser crashed and he ingests Space Whale meat. His additional powers include super-strength, super speed, lightning vision, and x-ray vision. For a time, he had trouble controlling these powers, but has succeeded. (The Space Whale is also the source of Ultra Boy's powers.)