The Legion of Super-Villains
+ Saturn Queen
Created by Jerry Siegel and Curt Swan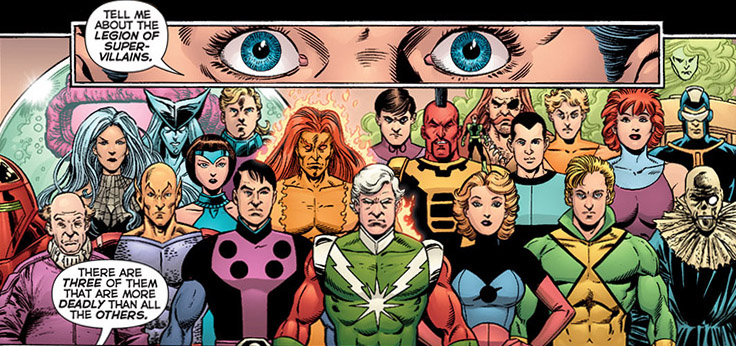 » FIRST APPEARANCE:
Adult: Superman vol. 1 #147 (Aug. 1961)
Teen/canonical: Adventure Comics #372 (Sept. 1968)
See things from Superman's perspective: from his time in the 20th century, he encounters the Legion of Super-Heroes — exciting teen visitors from the distant future. (Adventure Comics #247) The next time he meets them, they're dressed differently. (Adventure #267) Later in life he meets adult versions of those teens — who are evil. (Superman #147) 'I guess they came from different points in time.'
Then after fighting a cosmic Crisis, Superman forgets all of these people, and meets strangers called "Brainiac 5" and "Blok." Again later he meets the original three Legionnaires. (Adventures of Superman #476) After another crisis in time (the "Zero Hour"), these founders were suddenly much younger, and one was now called "Live Wire" instead of "Lightning Lad." (Legion vol. 4 #85)
What is Superman left to conclude? Either that the future is constantly changing in response to his current events, or there are multiple realities. In the Legion's case, both are true.
This applies to the Legions of Super-Villains, too. There are two distinct versions of the LSV: the original group was comprised of adult villains who are now considered to have come from an "alternate reality," or parallel Earth. The membership of the second group was mostly teenagers (like the Legion itself) and existed within the "official," or canonical Legion timeline.
The appearances of the adult LSV were all made within a series of Superman stories dubbed the "Adult Legion." Their first appearance was Superman #147 (1961), and those stories continued sporadically through 1967. These adventures all took place in Superman's time, not Superboy's. In retrospect, it's safe to say that the adult Legion of Super-Villains came from a parallel universe, and were thus eliminated by the Crisis on Infinite Earths (though the adult Saturn Queen apparently survived).
The reason this adult LSV is considered noncanonical to the regular Legion is that the stories depicted events in the Legion's future that never came to pass, or seemed unlikely to occur as Legion history unfolded. For example, the Adult stories predicted that Light Lass and Timber Wolf would marry; that Quantum Queen would become a Legionnaire; and that the Legionnaires would all change their names to "Man" or "Woman." Then again some Adult Legion predictions did come true: the marriages of Cosmic "Man" to Night Girl and the death of Chemical King.
A large group of villains also opposed the 20th century L.E.G.I.O.N., but were never named "Super-Villains," per se. » SEE: L.E.G.I.O.N.s of Super-Villains