Polar Boy
Created by Edmond Hamilton and John Forte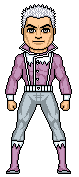 NAME + ALIASES:
Brek Bannin of Tharr
KNOWN RELATIVES:
Unnamed parents
GROUP AFFILIATIONS:
Legion of Substitute Heroes, Legion of Super-Heroes
FIRST APPEARANCE:
Adventure Comics #306 (Mar. 1963)
Retroboot: Action Comics #860 (Feb. 2008)
Original Polar Boy
One of the first planets settled by humans was Tharr, a fiery hell world where the core is cold and the surface is hot. The settlers adapted the ability to create cold to survive. In the 30th century, Tharr thrived by mining its rare minerals.
Young Brek Bannin was born with a greater facility for these cold powers. He was a fan of the Legion, and when he heard of Lightning Lad's death, he set out for Earth to 'replace' him (even though he was technically too young to join the team). As Polar Boy, he was rejected for this reason and his general inexperience. NOTE: Polar Boy's parents appeared in Superboy #148 (June 1968).
But Brek hadn't come all the way from Tharr for nothing. Instead of giving up and returning home, he banded together with four other Legion rejects — Fire Lad, Night Girl, Stone Boy, and Chlorophyll Kid — and formed the Legion of Substitute Heroes. Their self-described mission was to provide emergency backup to the Legionnaires. (Adventure #306)
The "Subs" frequently found that the Legion didn't need their help. But in their second major case, Brek played a key role in uncovering a plot by the Zyzans, cold-blooded aliens who sought out Earth's warmer climate and committed crimes. (#311) The Subs kept their group secret at first, but soon worked out a comfortable relationship with the Legion. (#315)
Still, the Subs found few opportunities to help and their training routines became relaxed. After an embarrassing incident on the planet Bismoll (Legion of Substitute Heroes Special), Brek disbanded the team.
Polar Boy doubled down and reapplied for Legion membership, and was finally admitted. This time he was technically too old, but the Legionnaires voted to waive the age restriction in light of Polar Boy's outstanding service and ability. (Legion vol. 3 #14)
Polar Boy was one of the most enthusiastic Legionnaires. He was rewarded by his peers and elected to the post of Legion leader. (#36)
Glorith Reality (Legion vol. 4)
Some Legionnaires such as Brainiac 5 refused to show Polar Boy due respect and it weighed on Brek's self-confidence. Perhaps he was overcompensating when he decided to remain with the Legion during its darkest time.
When the Dominators infiltrated Earthgov, the Legion was pressured to disband. The leader at that time was Sun Boy, and when he resigned in frustration, Polar Boy again took the helm. He aggressively recruited new members from a subpar pool: former Legion rejects (including most of the former Subs). He was ultimately forced to disband the Legion. (2995: The Legion Sourcebook)
Brek continued his campaign against Earthgov tyranny and led a protest against injustice, for which he was imprisoned for two years. At his trial, he was represented by Tenzil Kem of Bismoll (the former Matter-Eater Lad). Kem created a media circus and generated galactic sentiment to win Bannin's freedom. (Legion vol. 4 #10-11)
Brek accompanied Tenzil to the planet Tartarus, which was ruled by Prince Evillo. Evillo introduced them to his daughters, and Brek agreed to stay there and tutor them in the use of their magical powers. (#14) But he he was not allowed to leave Tartarus, so Tenzil returned to help again. Brek gathered several young heroes from Tartarus and they freed the world from Evillo's hypnotic grip. One of Evillo's wives was Saturn Queen, who took power and appointed Polar Boy as the leader of Tartaran security forces. (#49)
Retroboot
In the Legion "Retroboot" (post-Infinite Crisis), the events from Legion vol. 4 are not a part of Legion continuity, so Polar Boy never went through the trials involving the Dominators or Evillo.
Earth Man and his "Justice League" (an evil team of Legion rejects) took over Earth. Brek was captured by the League. He was held under extreme heat, tortured, and lost an arm. This horror did not deter him from his duty as a Legionnaire. When he was rescued by Superman and others, he chose simply to manifest a new arm made of ice in order to wear his Legion flight ring again. (Action Comics #860)
When the Legion bounced back from this attack, Sun Boy joined Polar Boy on a trip back to Tharr (where the locals were perplexed that Sun Boy would create heat "on purpose"). They were there in pursuit of Cryo-King, a villain from Tharr who was rejected by the Legion of Super-Villains. Cryo-King claimed that the LSV had their own "espionage squad" in the 21st century. (Adventure Comics #3/506)
For the first time, Polar Boy demonstrated romantic interest... in fellow Legionnaire Comet Queen. She strongly rebuffed him at first but (Legion vol. 7 #2) but later she enthusiastically joined him for a night on the town. (#5)
When a new Fatal Five returned, Polar Boy witnessed the death of his team member, Sun Boy (#17), and helped incapacitate their leader, Tharok. (#22)
Notes
The character was suggested by reader Buddy LaVigne, whose letter printed in Adventure Comics #304 (Jan. 1963) said, "I suggest a new character, POLAR BOY, who has the power of freezing to ice anything in his area."
Tom and Mary Bierbaum on Polar Boy: "He's sort of the eternal freshman among all the cool seniors. Just doesn't quite have the self-confidence and accomplished manner that would allow him to come off as a full-fledged big man on campus. But he tries harder and wants it more than anyone, making him a far more valuable member than many of his teammates would care to admit." —Interlac (2000)
Polar Man
Formerly Polar Boy, Polar Man was shown as a member in the Adult Legion story from Adventure #354 (Mar. 1967). Of course, this "prophesy" came true — nearly 20 years later — when Polar Boy finally earned his membership (although he never took the "adult" name). (Legion vol. 3 #14)
Powers
Polar Boy can generate intense cold and ice. This ability is shared by all the natives of his homeworld, Tharr.
Appearances + References
» FEATURED APPEARANCES:
Original Legion
Adventure Comics vol. 1 #306, 311, 313, 315, 319, 322, 331, 342, 351, 374
All-New Collectors' Edition #C-55
Crisis on Infinite Earths #5, 10
DC Comics Presents #59
Legion of Super-Heroes vol. 2 #294, 300, Annual #1
Legion of Super-Heroes vol. 3 #4, 14, 15, 16, 18, 19, 22, 24-30, 35-38, 40-47, 49-60, 62, 63, Annual #3
Secrets of the Legion of Super-Heroes #3
Superboy & the Legion of Super-Heroes #243-245, 254
Superboy vol. 1 #148, 200
Superman's Pal Jimmy Olsen #72
Tales of the Legion of Super-Heroes #316
Glorith Reality
Legionnaires #18
Legion of Super-Heroes vol. 4 #11, 13, 14, 28, 49, 52, 60
Retroboot
Action Comics #860-863
Adventure Comics vol. 3 #3 [506], 9 [512], 11 [514]
Legion of Super-Heroes vol. 6 #1
Legion of Super-Heroes vol. 7 #1–5, 9, 13, 16, 17
» SERIES:
Legion of Substitute Heroes Special, one-shot (1985)
Final Crisis: Legion of Three Worlds, 5-issue limited series (2008-09)
NAME + ALIASES:
Brek Bannin of Tharr
KNOWN RELATIVES:
None
GROUP AFFILIATIONS:
Legion of Substitute Heroes
FIRST APPEARANCE:
Legionnaires #43 (Dec. 1996)
Reboot: Polar Boy II
In the Legion's post-Zero Hour continuity, Polar Boy was also Brek Bannin, a young man from Tharr with super-cold powers. He was rejected by the Legion during a major membership tryout. After that he was also rejected by Leland McCauley, who was recruiting for his Workforce (because of Brek's small stature, McCauley thought he was far too young). On his way out, he met fellow reject Night Girl. He convinced her that despite their rejection, they could still use their powers for good. (Legionnaires #43)
The two of them gathered a few other rejects together, but, when United Planets President, R.J. Brande, sent out a call for super-powered beings to help stop Mordru, they felt that their team was not ready. (#49) Brek and the others were still avid Legion admirers, and were part of a crowd that greeted the Legion back on Earth after their fight against Mordru. (#52)
This universe, later dubbed Earth-247, ceased to exist during the Infinite Crisis. (Infinite Crisis #5)
Powers
Polar Boy can generate intense cold and snow, but lacks an expert level of control of this ability (which is native to all his people).
NAME + ALIASES:
Unrevealed
KNOWN RELATIVES:
None
GROUP AFFILIATIONS:
The Wanderers
FIRST APPEARANCE:
Supergirl and the Legion of Super-Heroes #21 (Oct. 2006)
Threeboot: Polar Boy III
The Polar Boy of Earth-Prime was a member of Mekt Ranzz's Wanderers. Polar Boy and several others posed as a Science Police officers in order to free other potential recruits. This Polar Boy was green-skinned. (Supergirl and the Legion #21)
He fought the Legion once more (#23) before the Wanderers and the Legion were forced to ally to defeat the Dominators. Still, Mekt Ranzz's motives were suspect. When he was jailed on legitimate charges, Polar Boy and the Wanderers fled. (#33)
Notes
The Polar Boy of the Threeboot era had green skin, instead of a Caucasian appearance.
Powers
Polar Boy manipulates extreme cold temperatures.
Appearances + References
» FEATURED APPEARANCES:
Supergirl and the Legion of Super-Heroes #21, 23, 33