JUSTICE SOCIETY OF AMERICA
Golden Age DC Characters
(1935–1942)
New Comics / New Adventure Comics / Adventure Comics
Compiled by Jason Greenfield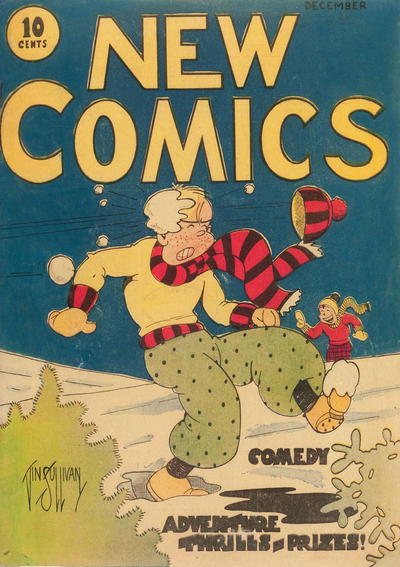 National Allied Publications' second title was New Comics (1935), which became New Adventure with issue #12 and just Adventure Comicswith #32.
In early 1946, Adventure Comics dropped almost its entire lineup (Sandman, Starman, Genius Jones, and Mike Gibbs, Guerrilla) and picked up the previous stars of More Fun Comics (Superboy, Green Arrow, Aquaman, and Johnny Quick). This may have been because humor features were gaining steam, and a book called "Adventure" couldn't transition as well to that format. More Fun, on the other hand, retained its own comedy feature (the Whitney Ellsworth/Henry Boltinoff "Dover and Clover") and picked up Adventure's "Genius Jones."
The Shining Knight, after a late run by Frank Frazetta, was dropped in 1952 due to shrinking page count. Johnny Quick followed in 1954, which is why Aquaman and Green Arrow, the survivors, became DC's only Golden Age heroes aside from Superman/Superboy, Batman, and Wonder Woman to survive into the Silver Age. Then editor Mort Weisinger began to juggle the backup features in his various books; he briefly replaced Green Arrow with Congorilla, then dropped both the newcomer and Aquaman in favor of "Tales of the Bizarro World" in 1961, followed by the Legion of Super-Heroes a year later. The Legion proved a great success, displacing and finally absorbing Superboy's long-running lead feature, before in turn being replaced by Supergirl in 1969.
Supergirl was moved over to her own title in 1972, leaving Adventure without any sort of regular lead feature for the rest of its run. Numerous characters were tried (including several return appearances by old regulars like Aquaman and Superboy, as well as Plastic Man, the Spectre, Dial "H" for Hero, and the JSA. Its last few issues werre all-reprint collections in the digest format. — Thanks to Rich Morrissey
Colored = masked or super-hero
Character
Appeared in Issues…
Notes
New Comics (#1–11)
Allan de Beaufort
#1 (Dec. 1935)
Historical. Active in 4th Crusade (1202-1204); became a Knight Templar
Vikings
#1-22 (Dec. 1935–Dec. 1937)
Historical
Captain Quick
#1, 2, 4-12, 14-20, 23-25 (Dec. 1935–Apr. 1938)
Historical; circa 1586
Wing Walker
#1-3 (Dec. 1935–Feb. 1936)
Pilot
Mr. Weed
#1-4 (Dec. 1935–Apr. 1936)
Little Fritz travels back 100 years in a time machine, meets Victorian Mr. Weed
Roy and Gail
#1-10 (Dec. 1935–Nov 1936)
Twins born in 1917
Jim Gale / 17-20 on the black
#1-13 (Dec. 1935–Feb. 1937)
Gambler / adventurer
Castaway Island
#2-13 (Jan. 1936–Feb. 1937)
With Larry, Dot and MacDougald, stranded on island
"Federal Men," starring Steve Carson
#2-70 (Jan. 1936–Jan. 1942)
By Jerry Siegel and Joe Shuster. Government agents.
Captain Jim of the Texas Rangers
#2-27 (Jan. 1936–June 1938)
Western
King Arthur
#3-8 (Feb. 1936–Sept. 1936)
Historical
Maginnis of the Mounties
#4–12 (Apr. 1936–Jan. 1937)
Dale Daring
#4–13, 16-37 (Apr. 1936–Apr. 1939)- female agent.
Sandor
#5–27 (June 1936–June 1938)
Tarzan type in jungles of East India
Steve Conrad
#5–20, 23-25, 47-76 (June 1936–July 1942)
scientist / adventurer / inventor
"The Golden Dragon" later feat. Lt. Skip Schulyer
#6–36, 37-46 (July 1936–Jan. 1940)
Mercenaries; Schulyer headlines beginning #37
Blood Pearls
#8–13 (Sept. 1936–Feb. 1937)
New Adventure (#12-31)
Character
Appeared in Issues…
Notes
Dt. Sgt. Carey of the Chinatown Squad
#14, 16, 17, 19, 20, 23, 26-28 (Mar. 1937–July 1938)
Then moves to More Fun #35-72 (Sept. 1938–Oct. 1941)
"Monestary of the Blue God" feat. Captain Douglas Stewart
#14-25 (May 1937–Apr. 1935)
Nadir, Master of Magic
#17-30 (July 1937–Sept. 1938)
Self-exiled Indian prince and magician
"G Woman" feat. Jane Justiss: Operator 23
#22 (Dec. 1937)
Monty of the Mounties
#23 (Jan. 1938)
Could be same character as Maginnis (speculative)
Boomerang Jones
#24 (Feb. 1938)
Could be same Boomerang Jones from Quality's 1941 "Blue Tracer" strip (speculative).
Guy de Lusigan
#25 (Apr. 1938)
Historical. Crusades.
Captain Desmo
#26-47 (May 1938–Feb. 1940)
Pilot; moves to More Fun #53-72 (Mar. 1940–Oct. 1941); also in Flash Comics #8 (Aug. 1940)
Tod Hunter, Jungle Master
#27-38 (June 1938–May 1939)
"Anchors Aweigh" feat. Lt. Don Kerry
#28-52 (July 1938–July 1940)
Naval
Tom Brent
#28-39 (July 1938–June 1939)
Adventure Comics (#32–503)
Character
Appeared in Issues…
Notes
Cotton Carver
#35-37, 39, 41-65 (Feb. 1939–Aug. 1941)
Explorer adventurer; land of Thule and Mikishawm.
Socko Strong
#40-57 (July 1939–Dec. 1940)
Boxer
Hourman
#48-73 (Mar. 1940–Apr. 1942)
Costumed super-hero
Mark Lansing
#53-62 (Aug. 1940–May 1941)
Sandman
#40-102 (July 1939–Feb. 1946)
Costumed super-hero
Paul Kirk
#58-70 (Jan. 1941–Jan. 1942)
Not the same character as the costumed hero, Manhunter
Starman
#61-102 (1941-46)
Costumed super-hero
The Shining Knight
#66-166 (1941-51)
Costumed super-hero
Manhunter II
#73-92 (April 1942–June/July 1944)
Costumed super-hero
Genius Jones
#77-102 (Aug. 1942–Feb. 1946)
Also in More Fun from #108; reappeared in 2007's Tales of the Unexpected
Mike Gibbs, guerilla
#84-102 (Mar. 1943–Feb. 1946)
Features move from More Fun Comics
Aquaman
#103-on (Apr. 1946–) • More Fun Comics #73-107
Costumed super-hero
Green Arrow and Speedy
#103-269 (Apr. 1946–Feb. 1960) •  Leading Comics #1-14 •  More Fun Comics #73-107 • World's Finest Comics #7-74
Costumed super-hero
Johnny Quick
#103-207 (Apr. 1946–Dec. 1954)
Costumed super-hero
Superboy
#103–380 (Apr. 1946–May 1969)
Costumed super-hero