The Supernatural World of Golden Age DC Comics
Super-Heroes, Magicians and Supernatural Features
The Golden Age of comics birthed a plethora of mystical characters, most of whom lifted their concepts straight from contemporary pop culture. There were occult detectives from pulp fiction, stage magicians in the funny pages, Far-East adepts on the radio, and turbaned hypnotists and sheikhs throughout the films of the era.
In fact, National's (DC) very first comic magazine, New Fun Comics #1 (Feb, 1935) introduced a long-running serial called "Bobby and Binks." These school kids looked into a magic crystal which sent them bouncing through time (they did not have "powers," per se).
A succession of DC's mystic heroes was led by Jerry Siegel and Joe Shuster's groundbreaking Doctor Occult. Early magicians such as Nadir and Lando disappeared into obscurity while the Spectre and Dr. Fate have become iconic DC characters. Zatara and Sargon enjoyed long runs, and late in the Golden Age, Dr. Thirteen arrived to usher DC's supernatural world into a new era.
Some of these Golden Age mystics have their own detailed profiles:
Cosmic Teams covers the above characters' more recent histories in great detail, but is lighter on their Golden Age careers. For some great G.A. profiles, visit The Comics Archives: Doctor Fate •  Johnny Thunder • The Spectre
NAME + ALIASES:
Dr. Terrence Thirteen
KNOWN RELATIVES:
Traci Thirteen (daughter)
GROUP AFFILIATIONS:
None
FIRST APPEARANCE:
Star-Spangled Comics #122 (Nov. 1951)
Dr. 13, the Ghost-Breaker
... Full profile to come ...
The term "ghost breaker" goes back to the early 20th century, in literature and film. Doctor Thirteen was preceded in comics by "Dr. Neff, the Original Ghost-Breaker," who first appeared in Street and Smith's Red Dragon Comics vol. 1 #3 (May 1948).
Vertigo
A sort of skeptical psychic detective, he worked with the Spectre and the Phantom Stranger. Has was reinterpreted in Vertigo Visions: Dr. Thirteen (Sept. 1998). This led to other appearances including the critically-acclaimed Tales of the Unexpected series (2007) by Brian Azzarello.
Traci 13
In 2003 girl sorceress, Traci 13 (Superman #189)
Appearances + References
» FEATURED APPEARANCES:
Mr. District Attorney #24 (Nov./Dec. 1951)
The Phantom Stranger vol. 1 #2, 3, 7, 15, 17 (1969–71)
Showcase #80 (Feb. 1969).
Vertigo Visions: Dr. Thirteen #1 (1998)
» SERIES:
Star-Spangled Comics #122–130 (Nov. 1951–July 1952)
Ghosts #95–102 (Dec. 1980–July 1981)
Tales of the Unexpected vol. 2 #1–8 (2006–07)
NAME + ALIASES:
Keith Everet, the Earl of Strethmere, aka Charles Collins, aka the Grim Ghost (post-Crisis)
KNOWN RELATIVES:
None
GROUP AFFILIATIONS:
None
FIRST APPEARANCE:
Sensation Comics #1 (Jan. 1942)
The Gay Ghost
Created by Gardner Fox and Howard Purcell
"The Gay Ghost" was a peculiar feature in Sensation Comics which ran for over 30 installments.
Read the full profile: The Gay Ghost
...
NAME + ALIASES:
...
KNOWN RELATIVES:
None
GROUP AFFILIATIONS:
None
FIRST APPEARANCE:
Flash Comics #29 (May 1942)
...
NAME + ALIASES:
Unknown
KNOWN RELATIVES:
None
GROUP AFFILIATIONS:
None
FIRST APPEARANCE:
World's Best Comics #1 (Spring 1941)
Lando, Man of Magic
Created by Howard Purcell
Created in the wake of super-hero Superman and super-magician Zatara (both of whom also appeared in World's Finest), there was little that "Lando, Man of Magic" could not do. This feature in World's Finest suffered from constant creative turnover and lasted for only seven installments. Penciller Howard Purcell drew the first three. Most stories were loaded with incredible feats, many of which might be explained as illusions (which was common for this time).
"Lando the Unknown" was a touring magician who possessed legitimate supernatural powers. When he went on vacation, he was approached by a woman who had news of spy activity on a nearby mountain top. The next day they both embarked for the mountain. When Lando was double-crossed by their guide, he effortlessly floated into the air to avoid harm. He flew to the summit then instead, and engaged with an Asian man, turning him into a duck. Lando also made himself invisible, immobilized a guard, and ultimately transformed all the enemy planes into junk. (World's Best Comics #1)
At the end of a large and successful performance, Lando disappeared in a cloud of vapor. During his downtime he was summoned to help a circus owner root out some saboteurs. Lando confounded them by walking upside down, manifesting water to quell a fire, and commanding an elephant to round up the bad men. (World's Finest Comics #2)
On an adventure to Central America, Lando took on foreign interests that sought to seize the Panama Canal. Their leader, the Hood, sicced his own witch doctor on Lando. The two used their powers to shrink each other, and produce snakes and lions, but Lando won out by trapping the Hood's boat in frozen water. (#3)
As artists changed each issue, Lando's suit and cape were also altered in ways, and sometimes he bore a goatee. In the Mexican jungle, he and fellow plane passengers fell prey to a giant monster called the Gargoyle. (#4)
Lando also used the power of a magic crystal, changed his appearance, transmuted elements, (#5) conjured money, and turned men into animals. (#6)
The last panel of his final appearance promised another installment, but the hero was never seen again. (#7)
Powers
Lando possessed supernatural powers, the origin of which is unknown. He could easily levitate and fly, transform himself and others, become invisible, create objects from thin air, and immobilize people.
NAME + ALIASES:
Prince Nadir
FIRST APPEARANCE:
New Adventure Comics #17 (July 1937)
Nadir, Master of Magic
Created by Will Ely
After Dr. Occult, the next original mystic to appear in the DC universe was Nadir, an exotic prince from the East who wore a traditional turban and black suit. The feature lasted a mere 14 issues and was created by Will Ely, who worked on other DC features through 1940. The first storyline was strung through eleven parts, not unusual for New Adventure Comics, which featured serials such as "The Golden Dragon," "She," and "The Monastery of the Blue God."
Nadir, the "Master of Magic" was a prince of India whose parents had died. This made him want to fight crime using "long-forgotten secrets of the Far East." He installed himself in luxury in New York City with his servant, Arcot. His associate, Sir Thomas Ellsworth, called upon him when a prized pearl was stolen. Nadir narrowly dodged a dagger en route, but used that knife in a magical rite to find the thief's location. (New Adventure Comics #17)
Nadir bathed the dagger in a special bath then placed the liquid in a ring that powered his crystal ball. At precisely 3 a.m., the ball divined the location of the thief, Henri Duprez. At Duprez's apartment, the prince used his "gleaming eyes," to compel Duprez to produce the pearl. (#18)
Duprez was double-crossed by his own bodyguard, Job, who locked Nadir in a stone cell. (#19) Arcot rescued his master and they used the crystal again. (#20) Their chase took them onto the seas, (#21) where Nadir was forced to swim to safety (he doffed his turban in order to "avoid questioning"). (#22)
Eventually Job was killed by the ship's greedy captain, (#24) and the captain was killed by the jewel fence. (#26) Nadir ju-jitsued his way back to the pearl and returned it to Sir Thomas. (#27)
Back home, Nadir used his mental powers to save movie star Marion Carver from an unwanted suitor. (#28) When Nadir concentrated, he produced a vision of Marion from within the man's mind. (#29)
In his final adventure, Nadir set out on a cruise vacation, but the ship was attacked by pirates. Nadir was strangled into unconsciousness and loaded into a car. The final panel promised, "To be continued." (#30)
This character made no further DC Comics appearances.
Powers
Nadir possessed the knowledge of "long-forgotten secrets" and could cast spells, perform hypnotism and some telepathy, and was a practiced hand-to-hand combatant.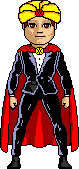 ...
NAME + ALIASES:
John Sargent
KNOWN RELATIVES:
Richard Biddle Sargent and unnaamed wife (parents), David Sargent (grandson, Sargon II)
GROUP AFFILIATIONS:
All-Star Squadron, Justice League of America
FIRST APPEARANCE:
All-American Comics #26 (May 1941)
Sargon the Sorcerer
This character borrowe the name of Sargon of Akkad/the Great, who was the first ruler of the Akkadian Empire, circa 2400 BCE.
... Full profile to be researched .. The following text is reprinted from a "Fact File" featurette in Action Comics #375 (Apr. 1969).
In a way, there were really two different Sargon the Sorcerer strips during the Golden Age of comics, although both featured the same character. The origi­nal series of Sargon tales appeared during the years 1941 through 1944. In this first series of stories, Sargon primarily used his mystic powers, often in secret, to combat ordinary, run-of-the-mill hoodlums and crimes. The strip was stopped for a year and then was revived, given a "new look" storyline. The second series was handled with more emphasis on the fantastic and with more humor.
How Sargon gained his magical powers was explained in All-American Comics No. 26. In 1917, the noted archaeologist, Richard Biddle Sargent, uncovered the fabled Ruby of Life, whose 4000 year old history was shrouded in mystic legend. Returning to the U.S. with the results of his excavation, the archaeologist gave the Ruby to his wife as a gift. As the years passed, the Sar­gents had a son whom they named John. Although his parents did not know it at the time, Fate was to favor young John. Sargent by conspiring to make the Ruby of Life, now worn as a pendant by John's mother, the first object baby John was to see or touch.
John grew up to follow in his father's archaeological footsteps and, as a young man, managed to find the key to deciphering the cuneiform writing on the objects that were unearthed along with the Ruby Of Life. The translated message explained that if the Ruby Of Life was the first object a baby consciously saw and touched, that baby would have a power over whatever he touched during his life. Remembering that, as a child, the jewel had always fascinated him, he held the Ruby in his hand and, following the translated instructions, recited a special incantation over it. He soon discovered that anything he touched, people, animals, even inanimate objects, were compelled to obey his spoken commands.
Deciding to use these newfound powers for good, John Sargent took the cover identity of a stage magician to disguise his true abilities of legerdemain. He took the name of Sargon, a priest-king of the ancient people who first discovered the mystic properties of the Ruby of Life. Thus magically aimed, Sargon fought crime: secretly at first, but eventually openly as his fame spread.
The turning point in the strip came in All-American Comics No. 70. when Maximillian O'Leary. Sargon's assistant and self-appointed manager, was introduced to the series. The round, cartoonishly drawn Max was obviously added for comic relief. However, whereas many a comical relief character was often inane and soon became more of a hinderance to a strip than a help, somehow Max worked! Perhaps it was just that Sargon had always needed someone who constantly needed his magical aid, or perhaps it was only Max's simple, good-natured, innocent character and willingness to help anyone in trouble that turned an averag strip into a lively and interesting feature.
There were one or two other changes made in the strip, including several changes of writers and artist, and the addition of a regular villainess—Blue Lama, the Queen of Black Magic — but even all this revamp­ing wasn't enough to save the six-page feature from the eventual comic book limbo that became the fate of so many secondary characters during the closing years of 1940s.
The name Sargon was not original...
John Sargent's father found an ancient Aztec(?) talisman called the Ruby of Life on an archaeological expedition. Little John touched the Ruby and bonded with it for life. This granted him formidable mystic abilities. He became a stage magician, Sargon (named after the first king of Assyria), thus hiding his powers in plain sight. The Ruby of Life often times moved Sargent to commit criminal acts.
Post-Golden Age
Following World War II, he came up against Dr. Fate, Dr. Occult and Zatara when he tried to enter the vaults of the Vatican City. Eventually, he succeeded and obtained the apple from the Tree of Knowledge of Good and Evil. (Swamp Thing #148) He planted this apple in the Black Forest (Freiburg, Germany) and let a tree grow for thirty years. In the meantime, he became more aware of the Ruby's evil influence and acted both as hero and villain. (Flash #186, DC Comics Presents #26) He even aided and became an honorary member of the Justice League. (Justice League of America #97-99)
He died nobly alongside Zatara (Swamp Thing #50), but his soul was restless and hovered in limbo. Eventually, he found a way into the body of a comatose man and summoned his niece, Grace Brady to him. As she arrived in Germany with his Ruby, so did the Swamp Thing. (Swamp Thing #148) Sargon used his influence over the people of Freiburg and made them commit suicide to feed the Tree of Knowledge with blood. (#149) Sargon then entered the light of the tree, but when the Swamp Thing cleansed the tree, he was trapped inside it — between heaven and hell. His Ruby of Life was claimed by a man called "the Traveler." He claimed that the Ruby was to await the coming of a "star-child." (#150) He also appeared as a spirit to Tim Hunter. (Books of Magic #1)
His grip on magic is so strong that he appears able to thwart death anytime. He returned again to vex the Swamp Thing. (Swamp Thing vol. 4 #2-4) Apparently, the Spectre put the final nail in Sargon's coffin. The next time he appeared, the Ruby of Life was shattered.
Sargon II
From the realm of death, Sargent reached out to his only remaining relative, his grandson David Sargent. He bound David to the Ruby and bade him to find the missing shards. (Helmet of Fate: Sargon)
Powers
....
NAME + ALIASES:
Dr. Asquith Randolph
KNOWN RELATIVES:
...
GROUP AFFILIATIONS:
...
FIRST APPEARANCE:
Wonder Woman vol. 2 Annual #3 (1992)
The White Magician
aka Mr. Magik
Created by William Messner-Loebs and John Dennis
... Full profile still to be researched...
Wartime hero created in 1992.
Appearances + References
» FEATURED APPEARANCES:
Wonder Woman vol. 2 #66, 71, 74, 75, 82, 84–87, 95–97, 99, 100