The Sandman
Original / Golden Age / Earth-Two
+ Sandy the Golden Boy (aka Sand)
Created by Bernard Christman and Gardner Fox
NAME + ALIASES:
Wesley Dodds (deceased)
KNOWN RELATIVES:
Edward and Marina Dodds (parents, deceased), Gerald (brother, status unknown), Dian Belmont (life partner, deceased)
GROUP AFFILIATIONS:
Justice Society of America
FIRST APPEARANCE:
New York World's Fair Comics #1 (1939)
Dian Belmont
NAME + ALIASES:
"The Lady in Evening Clothes," aka Diana Ware, aka "Sandy" (deceased)
KNOWN RELATIVES:
Lawrence Belmont (father), Agatha Belmont (aunt), unnamed uncle, Sanderson Hawkins (Sandy, nephew)
FIRST APPEARANCE:
Adventure Comics #47 (Feb. 1940)
APPEARANCES:
Adventure Comics #47–68
Sandman Mystery Theatre #1-70
SAND/Sandman IV
NAME + ALIASES:
Sanderson Hawkins, aka Sandy the Golden Boy, aka Sandman IV
KNOWN RELATIVES:
Dian Belmont (aunt, deceased)
GROUP AFFILIATIONS:
Justice Society of America, JSA All-Stars
FIRST APPEARANCE:
As Sandy: Adventure Comics #69 (Dec. 1941)
As Sand: JSA #2 (Aug. 1999)
As Sandman IV: Justice Society of America vol. 3 #1 (Feb. 2007)
The Sandman was one of DC's first super-heroes, having beaten Batman to the newsstands by a couple of months. His original run in Adventure Comics #40-102 lasted from 1939–46. It's best known for having been completely reinvented in 1941 by Joe Simon and Jack Kirby. The Sandman wasn't the only Justice Society member to star in a modern-day series, but 1993's Sandman Mystery Theatre (S.M.T., 70 issues) was unique for having been set in the 1930s.
"The Sandman" was created by artist Bert Christman (some sources credit writer Gardner Fox as well; he's known to have written some of the early adventures). Christman's drawing style is fairly easy to recognize; he drew five early stories before leaving comics. There were some rocky months of transition produced by Ogden Whitney, Chad Grothkopf, and Creig Flessel, who became the regular artist with Adventure #49. The feature was usually grounded in the pulp aesthetic, but occasionally suffered from early comic books' brand of "youthful" adventure. The hero's surname wavered between "Dodds" and "Dodd," even within one story (it was eventually formalized as "Dodds"). Christman signed his strips with the pen name "Larry Dean," a pseudonym kept by others after him.
Sandman Mystery Theatre was inspired in part by an all-new Sandman, created by Neil Gaiman in 1989. He weaved in small details from DC's other Sandmen. As its popularity grew, creator Matt Wagner pitched a new perspective on the original Sandman. The result was Sandman Mystery Theatre (S.M.T.), a series that was heavily influenced by classic pulp hero style. Wagner's Sandman adhered loosely to DC continuity and favored strong storytelling and characterization. For continuity freaks, there are irreconcilable differences between the Golden Age and S.M.T. chronologies. Wagner borrowed many details from Adventure #40 for his first story arc, "The Tarantula" (titled for the Sandman's first foe). Most of S.M.T.'s four-chapter story arcs were created in the same vein, introducing horrifying and depraved killers, and building a complex, loving relationship between Wes and Dian Belmont. S.M.T. included a number of costars from DC's Golden Age like the Hourman, Starman, and Blackhawk.
The Sandman's first appearance was New York World's Fair Comics #1 (released 30 April 1939). It presented him fully-formed and without much backstory. Sandman Mystery Theatre began the same way; Wes has already taken to the streets in costume. In 1986, Roy Thomas wrote the character's first origin story for Secret Origins #7 that revisited the 1939 New York World's Fair. The story was set on 10 June 1939, but after it was published, DC continuity was rewritten. The Crisis on Infinite Earths, left Golden Age continuity with a huge void from the elimination of the Golden Age Superman, Batman, and Wonder Woman. To compensate, the debuts of several heroes (including the Sandman, the Flash and Hourman) were moved back to 1938, the year in which Sandman Mystery Theatre begins. This profile integrates the events of Adventure Comics and S.M.T., with notes where appropriate.
The Golden Age Sandman
When we meet Wesley Dodds, he is the "millionaire steel magnate," heir to the Dodds-Bessing Steel Corporation. Wes took his father's legacy seriously—he was a scholar, athlete, and genius inventor. His parents were investor Edward Dodds and his wife Marina. While his father was fighting in the first World War, his mother died of tuberculosis. Edward struggled as a single father and when Wes was nine, he took the cryptic advice from a two-bit fortune teller and sent Wes off to school in "the Orient." It was a shock, but it significantly shaped Wesley's worldview. (S.M.T. #43) His father was Christian, and his mother a Jew, but Wes was raised under neither religion; he took instead to the Eastern philosophies. Edward Dodds passed away in the mid-1930s. Wes had one brother, Gerald, who became trapped in Warsaw after Germany's 1939 invasion of Poland. His ultimate fate is unknown. (#??)
The seed of the Sandman was sown in 1916, when an English occultist imprisoned a god, Dream of the Endless (aka 'the Sandman'). The universe compensated for Dream's absence by giving young Wesley Dodds strange, prophetic dreams. (Sandman vol. 2 #1) Years later, Dodds actually met the imprisoned Dream, who acknowledged "there is some of me in you." The Lord of the Dreaming stripped Wesley of his memory of this meeting, but the dreams cursed him to restless nights and compelled him don a gas mask and trenchcoat to become the Sandman. (Sandman Midnight Theatre)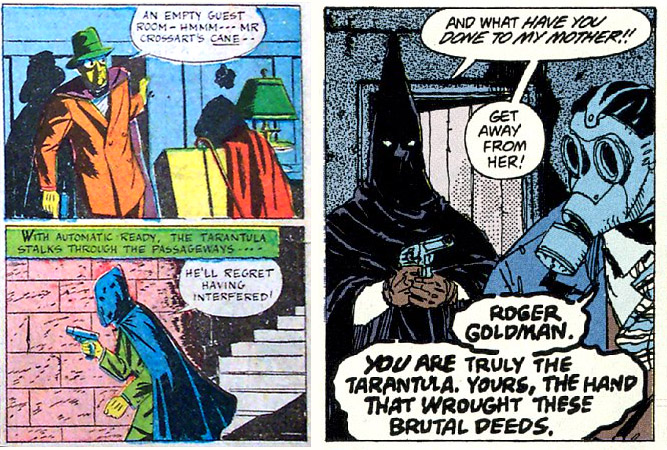 The Sandman's second appearance launched his feature in Adventure Comics #40 (July 1939). The Sandman was already a bane to the police. When actress Vivian Dale was kidnapped by the Tarantula, Wesley was at a private club with his friend, Tom. Tom hoped the Sandman would take the case, and compared the vigilante to the fictional detective Philo Vance. Later that night, Dodds bid his manservant, Humphries (the same name used in S.M.T.), good night, put a small Sandman doll on his bed pillow, and retreated through a secret wall panel to an underground laboratory. There he prepared the chemicals to use in his gas gun, and donned "all black apparel" (but colored brightly by the colorist). The Sandman found the black-hooded Tarantula creeping about Vivian's home, and unmasked him as a friend of hers, Mr. Crossart. The Tarantula described the scent of the Sandman's gas as "sweet" and "violet." (Adventure #40)
The first chapter in Sandman Mystery Theatre was titled "The Tarantula," but it bears little resemblance to Adventure #40. Matt Wagner and artist Guy Davis conceived a villain, Roger Goldman, who commited serial murder under the influence of his domineering mother, Miriam. On the matter of the Sandman's girlfriend, Dian Belmont, S.M.T. diverges from Adventure. Her first appearance in print was Adventure #47, but in Mystery Theatre, Dian is his leading lady from the beginning. Wes has returned to New York within the past year. He and Dian met at a society event and their attraction grew quickly. Her friend, Catherine Van der Meer, was one of the Tarantula's victims, which sparked Dian's own investigative inclinations; she used her father—District Attorney Lawrence Belmont—to learn about open cases. Wes, in turn, used both of them to inform the Sandman's next moves. (Sandman Mystery Theatre #1-4)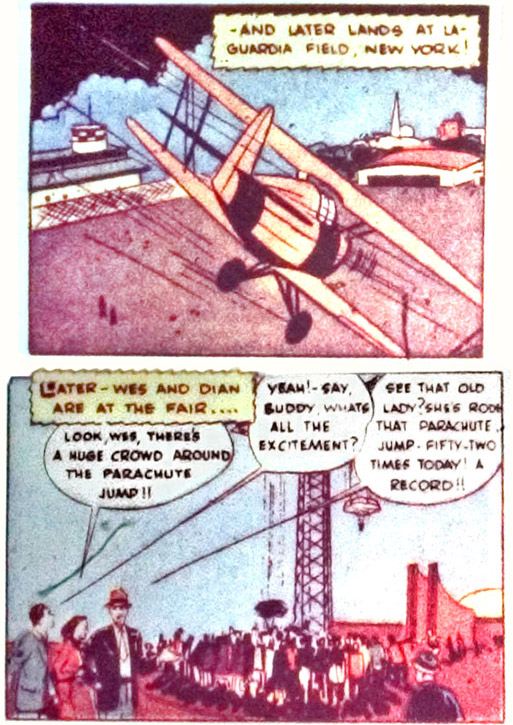 The Sandman paid several visits to the 1939-1940 World's Fair in New York City. In the first (his first appearance in print), Wes Dodds was nervous about displaying his company's new ray gun at the fair. His colleague, Evarts, insisted and as it turned out, had his own plans for it. The Sandman used his other tool, the gas gun, to distribute a sleeping gas that left the culprits asleep for the authorities. In this and several other early adventures, the Sandman doffed his clothes and took to the water, yet another one of his magnificent skills. (New York World's Fair Comics 1939) On his second visit he pursued Blackie Saunders, who kidnapped Dian's wealthy aunt Agatha. (New York World's Fair Comics 1940)
The 1987 origin story from Secret Origins set the Sandman's debut at the Fair. It paid homage in two ways, both to the Sandman's first appearance, and to another Golden Age hero called the Fantom of the Fair (later Fantoman) who first appeared around the same time, in Centaur's Amazing Mystery Funnies vol. 2 #7 (July 1939). The Sandman's adversary was called the Phantom of the Fair and he looked the same as the Centaur hero. Wes had discovered that his childhood friend, Lee Travis, had also taken to crimefighting as the Crimson Avenger. As the heroes fought one another, the super-powered Phantom escaped. (Secret Origins #7) In Sandman Mystery Theatre, "The Phantom of the Fair" played with some of the Origins details but the Sandman's encounters with the Phantom and the Crimson Avenger were not part of his origin. The S.M.T. Phantom was Gerald Zimmerman, a sadistic serial killer who targeted gay men and killed Wes' friend, Robert Li. In dreams, Wes saw the killer and connected him to "the Corinthian" (a living nightmare from Gaiman's Sandman). Police detective Jim Corrigan (who would become the Spectre) also worked this case. Afterwards, NYPD Lt. Anthony Burke denied the existence of the Sandman and the Crimson Avenger, suggesting that a reporter "pack up and head for Central City... go find 'the Flash!'" NOTES: This was an editorial error; the original Flash was active in Keystone City, not Central. The Corinthian first appeared in Sandman #10 (1989). (Sandman Mystery Theatre #41-44)
All millionaire playboys of the 1930s possessed pilots licenses, it seems, and Wes Dodds was no exception. At home in the air as well as the sea, he rejoined his Navy flying buddies, Dr. Clyde Dunlap and Happy O'Shae to save Steve Weber from their former adversary, Teeter Sneed. The trio left Sneed for authorities with a note signed "the three Sandmen." (Adventure #42) Dodds continued his trek to the South Seas, where he saved a girl named Australia from the tyrant, Red Hatch. The Sandman turned the natives to his side with by playing "sky god" and they killed Hatch. (#43)
The Face was a master of disguise who was willing to kill for access to one family's oil assets. The Sandman survived being shot by the Face and in the final chase, the crook was apparently lost in a river. (#44) (NOTE: This story's butler was named Feathers, and in #45 the Sandman used an Asian ally named Toki.) In S.M.T.'s "The Face," the Sandman investigated a series of murders in New York's Chinatown. committed by the Face. (Sandman Mystery Theatre #5-8) The villain reappeared in S.M.T. #??.
The Sandman's girlfriend, Dian Belmont, first appeared in Adventure Comics #47 (Feb. 1940). She was a misunderstood thief known as the "Lady in Evening Clothes." The case began with the Sandman's conversation with District Attorney Belmont about a recent shooting. The Sandman recovered the bullet, which implicated gang leader Black Bill Trent. Later that night, Wes Dodds was awakened by an intruder—the Lady in Evening Clothes! She was quick to explain herself: her name was Dian Ware ("Diana" in the first mention and "Dian" thereafter), and she had been adopted by gangster Slick Deacon and raised to be a top safe cracker. After Deacon's death, she was forced to work for Black Trent, who blackmailed her into raiding Dodds' safe in return for information about her real father. Dodds unexpectedly dared Dian to open his safe where she discovered his Sandman mask. She was desperate to escape the life of crime and partnered with the Sandman to bring down Trent. The pair retrieved incriminating documents from Trent's desk and delivered them to the D.A. The documents also revealed that D.A. Belmont was her biological father, which he confirmed by identifying a mole on her shoulder. She'd been lost as a baby when the Belmonts were staying at the Falton House in Chicago. Belmont's enemies shot his wife and supposedly killed his baby daughter. In reading Slick Deacon's diary, they learned that Deacon had a change of heart that day and saved Dian instead. The Sandman declared that Dian was a good partner. (Adventure #47)
Sandman Mystery Theatre ignored this colorful story, though Dian's mother was also deceased in that series. She and West met right away in S.M.T. but the Sandman had been operating for some time before that.
When "The Hour-Man" (Rex Tyler) was introduced in Adventure #48 (Mar. 1940), the Sandman lost his cover spotlight. The Hourman's debut was woven into S.M.T., with Tyler and Dodds meeting as civilians, then discovering that each had an alter ego. (S.M.T. #29-32) This story was surprisingly faithful to Hourman's origin story in Adventure #48.
After a party on D.A. Belmont's yacht, the Sandman rescued Larry from drowning and revealed his identity to him afterwards. Belmont offered the Sandman a job as a detective, which he refused, saying "I like my methods better. They get results!" (Adventure #48) The Sandman was frequently called upon to save Dian's father. Mr. Belmont became conflicted; the Sandman was a "known criminal," so there was no way to offer him protection. (In reality, the Sandman's "crimes" were legend, created to influence his reputation with the underworld.) Dian persuaded her father to offer him a truce, but only if he'd unmask for the public (which he wouldn't). (#50)
Dian was an active partner in the Sandman's career, in both continuitites. In Mystery Theatre, she gradually earned the Sandman's trust, and her own detective skills improved. As a socialite, Dian was also a target. Claudia Norgan's Amber Apple Gang stole a pair of gloves from Dian's home in order to frame Dian for a crime. (Adventure #52) Her underworld connections resurfaced when a doppleganger was groomed to take Dian's place. (#60) Another time, Dian exhibited some acrobatic skill by leaping into the Sandman's car, and holding onto his leg while he swung from his wire-poon gun. (#66)
When Wesley fell prey to mobsters, Dian dressed as the Sandman to go and free him. (#56) She did the same during a 1943 Justice Society case. When the male JSA members were captured by Brain Wave, Wonder Woman gathered up all their gal pals to help. (All-Star Comics #15) In S.M.T., Dian played the role of "Sandy" twice, primarily as the Sandman's driver. (Sandman Mystery #47, 69)
Most of the Sandman's cases sprang from breakthroughs in science and chemistry. The dangers included uranium death rays (#57, 62), killer orchids (#58), "mystical" rubies (#59), and disintegrating rays. (#61) One inventor called himself the Unseen Man and used his invisibility pigment to commit crimes. The Sandman's cobalt blue glasses were able to make him out, catching reflections of the paint. (#64) Scientist Prof. Josephus Doombie invented a serum to shrink himself, and also administered it to the Sandman and Dian. (#67)
Another inventor, Ted Knight, aka Starman became Adventure Comic's next cover star, beginning with Adventure #61 (April 1941). Starman and Sandman served in the JSA together and Sandman Mystery Theatre spun a tale about their first meeting. This was at a time just prior to the Starman's debut, when inventors were invited by the US Army to present their innovations for the national defense. One was Ted Knight, and another one "Jonathan Smythe." Smythe (an alias) had invented a machine whose energy could disintegrate matter. Smythe was so desperate for money he hired his invention out to the mob. When their partnership soured, they turned the machine onto Smythe himself. The scientist made it as far as Opal City (Starman's home town) before his own body dissolved. (S.M.T. #37-40) Smythe soon reappeared in "Starman," as the criminal called the Mist, in Adventure Comics #67 (Oct. 1941).
Sometime in 1939, the Sandman met Isabella Sforza, a romance writer who became the killer called Mantis. Wes' worldview was forever changed when he discovered a garden of corpses in the Mantis' lair. The Mantis nearly killed Wes, and after this case, he began experimenting to invent a stronger "incapacitant." He eventually succeeded in creating a chemical that induced a sleep from which the victim might never wake; but he never used this weapon in the field. (SMT: Sleep of Reason #4)
In Sandman Mystery Theatre, Dian Belmont's role was as important as the lead character's. Dian became Wesley's soulmate and after their first sexual encounter, (#16) they became quickly and deeply committed to one another, and remained together their entire lives. It wasn't long before she discovered his dual identity, either. (#21-24) At one point, Dian became pregnant with Wes' child and consulted Dr. Charles McNider (the future Dr. Mid-Nite). (#55) She ultimately chose to have an abortion because their relationship at the time was uncertain. (#56) They never had children, and never married, despite Wes' proposal. Wesley gave Dian his mother's ring on New Year's Eve, 1939, after which they set out for Europe to rescue Wes's brother Gerald. This was the last issue of Sandman Mystery Theatre.) (S.M.T. #70)
Joining the Justice Society
The Sandman was also a charter member of the Justice Society. The group formed about a year later, on 9 November 1940. At the behest of British Intelligence, President Roosevelt sent the Flash and Green Lantern on a mission to Scotland to investigate rumors of a planned Nazi invasion of Great Britain. The heroes were captured by Adolf Hitler and rescued by more mystery men. Afterwards the heroes formed the Justice Society of America. (DC Special #29) Their first meeting was held on 22 November 1940, in Gotham City. The Sandman joined as a charter member alongside the Atom, Dr. Fate, the Flash, Green Lantern, Hawkman, Hourman, and the Spectre. (All-Star Comics #3) NOTE: These heroes all appeared in All-Star Comics #1–2 as well, but it was presented as an anthology, not a team-up.
Note
The Super DC Calendar 1976 gave Wes Dodds's birthday as November 3.
The Golden Boy Age
There was no warning that "The Sandman" was to undergo a makeover. His last suit-and-tie case was just another rogue inventor. (Adventure #68) In Adventure Comics #69 (Dec. 1941), "The Sandman" changed dramatically. Without explanation, he switched to a tight-fitting purple-and-gold costume, and began working with a kid sidekick called Sandy. Joe Simon and Jack Kirby are the creators who are normally associated with this era of the Sandman, but they did not create it. The GCD, credits the art in Adventure #69-71 to Paul Norris, which is not right. The art looks nothing like Norris' work. (The writer in Alter Ego #45 copied this credit as well.) The art does, however, look somewhat like the work of Jerry Robinson, who would have been at DC for over a year.
The Kirby Collector #17 mentions a quote from Jack Kirby claiming responsibility for the Sandman's reinvention; even if they didn't start until Adventure #72, Simon and Kirby were definitely responsible for the success of the "all-new Sandman," which was propelled by their unbridled storytelling.
It all began with Wes driving along the countryside in his suit and hat. When he hit trouble, he stripped to his "glamorous" new costume and declared that his day clothes "only hamper my movements." That was all the explanation ever given for this change, and the Sandman quickly set about pursuing a horde of giant mutant bees. From nowhere, Sandy the Golden Boy appeared and he was conveniently clad in a similar costume. Sandy had been playing at being Sandman, studying and training in the hopes of fighting with his hero. The Sandman was impressed by the boy and they traced the source of the bees to a nearby farm. Bess Buttsford and her father had treated their hives with a special thyroid extract that enlarged the bees—and their Queen Bee developed human-like sentience. By working together, the new duo killed the pests and the Sandman made Sandy his official partner in crime fighting.
Dian Belmont did not appear in Adventure Comics after the Sandman's reboot, and was similarly absent from later tales involving Sandy's transformation into a silicoid monster. But she did make one anomalous appearance in a 1943 Justice Society tale. (All-Star Comics #15)
It's odd enough for a Golden Age character to go through such a dramatic change. Odder still is the fact that DC had introduced a hero called the Tarantula (Jonathan Law) just two months prior, in Star Spangled Comics #1 (Oct. 1941). The Tarantula's costume was nearly identical the Sandman's new uniform. The two stories were drawn by different artists, so the similarity remains a mystery. Decades later, Roy Thomas penned a story for All-Star Squadron #18 (Feb. 1983) that attempted to answer the question raised by Adventure #69…
In late June of 1941, Dian Belmont sketched a new costume for Wes, one more in keeping with his peers'. When she went to work with the mystery writer Jonathan Law, she showed him the costume design. Law immediately designed a uniform based on the sketch and became the Tarantula (Star Spangled #1, Oct. 1941). The Sandman was out of the country at this time, and Dian donned his costume upon hearing about an arson case. At the scene, Dian was killed in a car crash just as the Sandman reappeared—also wearing her new costume. Wesley was grief-stricken and vowed to continue wearing Dian's design. The Tarantula agreed to find something different. NOTE: This tale is also where Sandy was retconned into being Dian's nephew. (All-Star Squadron #18) Dian Belmont was always portrayed as an only child, so later explanations that Sandy was her nephew remain unexplained. Sandy was described as an orphan in Justice League of America #113 (1974).
Simon and Kirby's first Sandman tale ... (Adventure #72)
In 1942, a young sub-group of the All-Star Squadron called the Young All-Stars toured the country to promote war bonds. Sandy was reluctant to join them; he believed his experience made him superior, and so his relationship with the others was strained at first. He was especially hostile to the young heroine Tsunami, who had previously fought the Squadron. Sandy stayed with this group only to the completion of their tour, then he returned to working alongside the Sandman. (Young All-Stars #1-6)
Postwar
The Sandman remained a Justice Society member for the entire Golden Age.
In 1947, Wes began experimenting with a new "silicoid" gun, a device which accidentally turned Sandy into a silicon-based monster. Not knowing what else to do, Wes confined Sandy in a gas chamber in his basement, hoping to find a cure one day. He also abandoned his gold costume because it reminded him too much of his time with Sandy. (Justice League of America #113) Over the years, Wes remained largely in retirement through the JSA's continued activities. His next outing was during the JSA's team-up with the fledgling Justice League of America. In this adventure, the Sandman returned to his original costume. (Justice League of America #46-47) He participated regularly in these team-ups after this.
While the Sandman was participating in a JSA/JLA team-up, Sandy's confinement cell was interrupted by a tremor. When he was freed, he followed the source of the disturbances and absorbed the shocks. Sandy could travel through the earth and turn his form into sand. He couldn't yet speak, and the heroes interpreted his actions as malevolent. He was soon able to explain himself, and the Sandman was horrified to learn that Sandy had actually recovered from his transformation soon after it happened. But the amount of gas that Wes let into the chamber kept Sandy from acting on his own will. The pair went their separate ways and it was some time before Sandy reemerged. (Justice League of America #113)
His guilt over Sandy led Wesley to seek psychiatric help from a Dr. Raymond Baxter. Baxter employed hypnosis, and Wes forgot everything about his role as Sandman — and Sandy's predicament. Several years later, Wes was lured into a trap by the Sandman's one-time enemy "Snooze" Simpson. As a result of his ordeal, Wes recovered his memories and renewed his vow to restore Sandy's humanity. He succeeded; but while Sandy had not physically aged since his transformation, he was no longer truly human, but a silicon-based being. (DC Comics Presents #42, 47)
The Sandman was ever-willing to continue his adventures, but Wesley Dodds was the unfortunate victim of multiple strokes. The first happened shortly before the infamous Crisis on Infinite Earths (Infinity, Inc. #1), and he suffered another upon the JSA's return from Limbo and the battle at Ragnarok. (Justice Society of America vol. 2 #1)
His days in costume were over but he sometimes found the occasional for detective work. When Jack Knight, the son of Starman sought him out for help with ..? When he met them, Jack was much more in awe of Dian Belmont, whose Nobel Prize-winning novel, Whispers in Darkness, was one of his favorites. (Starman vol. 2 #20)
The Sandman shared his final stateside adventure with the son of the original Starman, Jack Knight. (Starman vol. 2 #20-24) After this, Dian and Wes departed for a tour of the Far East, intending never to be heard from again. (#30) Knowing that she was dying of cancer, Dian wanted to spend her last days in the land of her own dreams — the exotic lands of the Middle East. After they arrived in Afghanistan, Dian was kidnapped by militants led by a man named Masad. Wes was forced to don his mask once more to free her from her captors in Kashmir. This time, for the first time ever, he used the experimental version of his sleeping gas. He unleashed the gas on Masad's men, causing them to enter a near-death nightmarish state. Dian shot Masad, who was also exposed to the gas, and they left him for dead. Later in Jalalabad, Wes decided to leave all his equipment — including the stronger gas and its antidote — behind in a trunk. Later Masad would return to find this trunk and to face Wes' successor in the Middle East, Kieran Marshall.
The Non-Sandman, Kieran Marshall

Seven years after Wes and Dian's visit to Afghanistan, their foe, Masad, recovered Wes' left-behind artifacts. Masad duplicated Dodds' experimental gas and its antidote and became an unaffiliated terrorist.
After being shot and dosed with the gas by Wes and Dian, Masad connected with an other-worldly power in his dreams. In this realm, Masad's cruel mentor taught him how to be the ultimate survivor and warrior. Two years after the incident, Wes Dodds died and his "gift" of prophetic nightmares was passed on to several individuals. One was Sanderson Hawkins, Another was Masad. And a third was Pulitzer Prize winning photographer Kieran Marshall.
Marshall came to Afghanistan as a photographer, embedded with U.S. troops. Kieran was kidnapped by Masad and discovered the Sandman's weapons in Masad's possession. Kieran donned the mask and gun and escaped, vowing to stop Masad's terror plot. Although he was successful, Masad survived once again. During this time Marshall also met a girl named Alia who exhibited some of the Sandman's prophetic abilities. Alia aided Kieran and implored him to fight evils of war with his camera. The result was an acclaimed photo essay in Time magazine. (Sandman Mystery Theatre: Sleep of Reason #1-5)
Kieran was divorced. It was not revealed whether he had children.
Exit Light, Enter Night
Dian died either during or soon after the trip to Afghanistan; the story of her passing has never been told. Without his true love at his side, it was not difficult for Wes to choose to sacrifice himself against Mordru. His death prevented the evil magician from learning the identity of the next incarnation of Dr. Fate. (JSA Secret Files #1)
The Sandman's funeral served as the impetus to reform the Justice Society — and for Sandy's return to adventuring. Sandy became a founding member of the new Justice Society. Wes left more than one legacy to Sandy. Not only did he inherit a tidy fortune, but he also began having the disturbing and prophetic dreams which had plagued the Sandman. Now calling himself Sand, he was a cornerstone of the new JSA. (JSA #1)
Sandy's transformation gave him additional powers. He could transform his body into sand and travel through the earth, riding fault lines. After joining the JSA, he acquired a costume developed by TylerCo that would change form along with him. Sand began taking a leadership role, inviting the new Mr. Terrific to join the JSA, (#5) and he was soon voted the team's Chairman. He was instrumental during one of their most challenging hours; when Imperiex threatened to annihilate the universe, Sand led a massive new All-Star Squadron to the planet Daxam, where they freed the planet from Imperiex's planet-sized ship. (JSA: Our Worlds at War)
After a dispute between Sand and Hawkman, Mr. Terrific was elected team Chairman. (#27) Not long after, during a difficult battle against Mordru and Eclipso, Sand spread his entire being through the earth in order to stop a massive earthquake. He did not return from this heroic endeavor. (#50) For a time he was lost, but thanks to the expertise of explorer Cave Carson, Sandy's lingering sentience was discovered. (#52) He was finally freed from both his mental and physical imprisonment by Carson and two teams of JSAers. While missing, Sandy's consciousness had assumed the role of the late Garret Sanford: Sandman II. (#63) The "astral JSA team" battled for control of Sand's psyche and another team found his physical essence deep within the Earth. Dr. Fate banished the goblins and Power Girl brought his body to Earth for restoration. (#64)
At some point after the second great Crisis, Sandy finally took the name Sandman (IV) (52 #29) for himself and adopted a costume similar to Wesley's. When the JSA founders began rebuilding the team with so-called "legacy" heroes, Sandy was on-board again as well. (Justice Society of America vol. 3 #1)
The Sandman was one of the first to realize that the second Crisis had restored the multiverse. He dreamt of the new Earth-2, which closely paralleled the Justice Society's own history. (#4)
Sand helped track a new threat called Gog through the being's connection to the Earth. This god of the Third World bestowed gifts to members of the JSA; he removed the nightmares from Sandy's sleep, allowing him to dream normally. (#17) But Sandman found himself feeling crippled without the visions, which prevented him from saving a kidnapped boy. He also discovered that Gog was weakening the tectonic forces of the planet. (JSA Kingdom Come Special: The Kingdom)
Sandy took a brief break after this case, just as the JSA split into two teams. His path soon crossed with Power Girl's new faction—called the JSA All-Stars—when he began having a new rash of prophetic dreams. (JSA All-Stars #1) The dreams were so disturbing that Sandy could not function for sleep deprivation. When he finally did sleep, he received a dream-visit from Wesley Dodds. (#3) Sandy comes with warnings, and retakes the codename Sand. In a mystic rite, the King of Tears is brought to Earth. Stargirl agrees to go with Sorrow to stop the JSA's certain defeat. In the Subtle Realms, she finds Atom-Smasher (Sorrow in disguise). (#4)
Stargirl and Atom-Smasher fight together through the Subtle Realms to the Courts of Despair. She begins a spell to help find Stargirl, too. Sand officially rejoins the team. (#5)
Sand works with Det. Rutsky, giving him tips from his visions. King Inferno returns for revenge on Wildcat, trying to turn Tom against Ted and recreate the nine lives spell. When Inferno's magic circle is broken, the demon Naedon takes him. (JSA 80-Page Giant 2010 #1)
When the JSA All-Stars disbanded, its members remerged with the Justice Society, but its unclear whether Sand rejoined them.
The Sandman Legacy
All the men who have taken the name "Sandman" owe their position to Dream of the Endless. This powerful, elemental cosmic entity was the source Wesley's dreams. Though Dream is commonly referred to as "the Sandman" because of the title of his popular series, he was never called "Sandman."
While Dream was imprisoned, two of his errant minions, Brute and Glob bestowed some of Dream's powers on Garret Sanford, Sandman II. (Sandman vol. 1, 1974) Sanford eventually committed suicide and Brute and Glob coerced a new pawn: Hector Hall, the son of Hawkman. (Infinity Inc. #48-51) Hall's tenure as Sandman III was brief. Soon after this Dream was released from his imprisonment and reclaimed his power and domain. Dream punished Brute and Glob and killed Hall. (Sandman vol. 2 #12) Incidentally, Hall's infant son Daniel was chosen by Dream to be his successor. (Sandman #22, 40, 69-72)
Dream Girl, a member of the 31st century Legion of Super-Heroes also shares the ability to walk among the Dreaming and glimpse the future.
Earth-2, Post-Infinite Crisis
After the Crisis on Infinite Earths, the original Earth Two was merged into all other surviving Earths. After the Infinite Crisis, the multiverse of the DC Universe was restored, there was again an Earth-2. Their history seemed to have unfolded as if the first Crisis had never happened (picking up approximately after Infinity, Inc. #24). On it, Infinity Inc. and the Justice Society merged to form Justice Society Infinity, and apparently Sandy had become the Sandman in that reality, too, although he was dressed as the Jack Kirby Sandman. (JSA Kingdom Come Special: The Kingdom #1)
New 52/Earth 2 Sandman
Like other JSA heroes recreated for DC's New 52, the Sandman is an amalgam of previous versions.
In Other Media
Dodds was the second member of the Justice Society to fall to the Icicle in an episode of Smallville (Season 9, Episode 11, 5 February 2010). In "Absolute Justice," a 2-hour movie written by Geoff Johns, the Sandman is found by Clark Kent just after his death. Clark goes on to discover the secret history of the Justice Society of America, which was led by Hawkman. The JSA has been monitoring Clark and his super-hero friends. Dr. Fate, Sandman, and Stargirl (Sylvester's apprentice) join in to find the Icicle. Afterwards, Hawkman and Stargirl decide to seek out the remaining JSA members and their children, to help organize a new generation of superheroes. Other Versions
Notes + Continuity
In post-Crisis continuity, the Sandman might be considered the DCU's first costumed adventurer. Golden Age Secret Files #1 (2001), reported that the Crimson Avenger was the first costumed hero in current DCU continuity. However, Secret Origins #5 ties the Crimson Avenger's debut to the famous broadcast of Orson Welles' War of the Worlds on Halloween of 1938 (months after Wes became the Sandman). One could argue that while the Avenger may have been the first prominently known masked avenger (thanks, perhaps, to Travis' publicity in his own newspaper), he was actually preceded by several other heroes including Dr. Occult, Quicksilver, the Sandman, and (probably) the Flash. See the JSA Chronology of the Golden Age.
Sandy Hawkins was first called "Sandman" in Kingdom Come (1996) by Mark Waid and Alex Ross. Sandy was a member of Superman's Justice League and appeared as Sandman IV in Kingdom Come #2. The original Sandman also appeared in issue #1 of that series. Sandman IV is described in the card set as "formerly Sandy the Golden Boy, who now doesn't age." although his appearance was based on Garrett Sanford (Sandman II),
Alex Ross' first work for DC Comics was a story of Wes drawn for the Sandman Mystery Theatre Annual #1 (1994)
DC has published one hardcover volume of The Golden Age Sandman Archives, which reprinted Adventure #40-57, and New York Worlds Fair Comics 1939 and 1940. The Sandman by Joe Simon and Jack Kirby (2009) reprints Adventure #72-102.
Geoff Johns on Sandy/Sandman: "Hawkins is the behind-the-scenes JSoA member. He's out there following his prophetic nightmares and investigating mysteries and crimes much like the original Sandman. When one requires the Justice Society's attention, he'll bring them in. Recently, he's become more withdrawn into his mask and trenchcoat and we'll be exploring the effects of sleep deprivation with him. He hasn't a good night's sleep in a long, long time." — "The New Faces of the JSA," Newsarama (14 Feb. 2007)
Powers
Save for his prophetic dreams, the Wesley Dodds had no metahuman abilities. He had a variety of other talents; he could pilot a plane, was an excellent swimmer, acrobatic enough to swing from a line, a safe cracker, and an accomplished detective.
Before his transformation into the silicoid monster, Sandy was also a normal human. Since then, however, he can change his body (which is now silicon-based) into any form. He can also use this ability to travel through the earth.
Appearances + References
» FEATURED APPEARANCES:
Sandman:
All-Star Comics #1–21
Boy Commandos #1
DC Comics Presents #42, 47
Detective Comics #76
Justice League of America #46-47, 113
New York World's Fair Comics 1939 and 1940
Sandman vol. 2 #71
Starman vol. 2 #20-24
» SERIES:
Sandman:
Adventure Comics #40-102 (July 1939–Feb. 1946)
World's Finest Comics #3–7 (Fall 1941–Fall 1942)
Sandman Mystery Theatre,70 issues (1993–99)
Sandman Midnight Theatre #1 (1995)
Sandman Mystery Theatre: Sleep fo Reason, 5-issue limited series (2007)
Sandy:
Adventure Comics #69–102
JSA, 87 issues (1999–2006)
Justice Society of America vol. 3 #1–22 (2007–09)
JSA All-Stars, 18 issues (2010–11)