Bug! The Adventures of Forager (2017)
6-issue limited series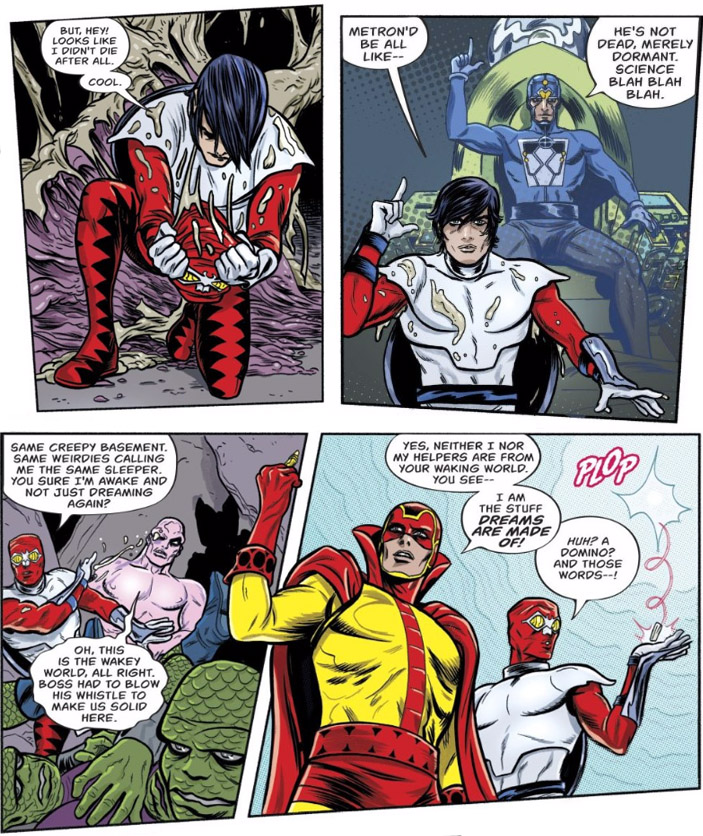 The Bug! mini-series was a surprising addition to DC's imprint called "Young Animal." In Young Animal, second tier and sometimes forgotten characters are reinvented for the limelight in unusual ways (the flagship title of "Young Animal" was Doom Patrol, which was inspired by Grant Morrison surreal 1990s run).
Continuity is not a primary concern across the "Young Animal" titles. Sometimes the stories seem to fit with earlier DC timelines. Bug!, in fact, picks up the Forager's story from just after his death, in Cosmic Odyssey #4 (1989). Brothers Lee and Michael Allred take the character through the fantastical landscapes of Jack Kirby, where the Forager encounters all sorts of Kirby creations.
The Forager emerged from a cocoon, seemingly in the basement of an Earth house, the family of "Buddy" Bartholomew Blankenship (the name of Kirby's OMAC). He soon met a mute girl named Kuzuko and her sentient teddy bear. He came to realize that he was in the Dream Stream, realm of the Sandman (Garret Sanford). The Forager was enticed into finishing a domino setup which took the form of a Mother Box circuit. When tipped, the dominoes triggered images of various heroes: Sandman I and II, the Black Racer, Deadman, Manhunter, OMAC, Atlas, Metron. He and the Sandman were beset by the evil General Electric, who used a whistle made of orichalcum (a mystic metal with power to make dreams real). The Forager grabbed the whistle and then fell into a portal. (Bug! Adventures of Forager #1) Note: Kirby's Sandman first appeared in The Sandman #1 (Winter 1974).
The Forager reappeared in World War II era Asia, where he met a cadre of Americans: Gunner and Sarge (the Losers), Sandman and Sandy, and the Blue Beetle. They were in pursuit of General Denki — who would one day become General Electric. Denki was mining orichalcum metal in the secret city of Nanda Parbat. His ally was Chagra, who stole the metal and returned to his home dimension. A domino appeared from thin air and the Forager followed Chagra. (#2)
He landed in world of Atlas (from First Issue Special #1, Apr. 1975). There, Kuzuko's bear revealed that after the Forager's death, the New Gods placed his body at the Source Wall where it disintegrated. To stop Chagra's evil plans, the Bug created a "negative Boom Tube" to counter Chagra's own. The teddy bear declared that the process might have killed the entity that lay behind the Mother Boxes. (#3)
Issue
Writer
Artist
Characters
Bug! The Adventures of Forager #1 (July 2017)
Lee Allred
Michael Allred
Brute and Glob, Forager, Sandman II
#2 (Aug. 2017)
Forager, Blue Beetle I, Chagra, the Losers (Gunner and Sarge), Rama Kushna, Sandman I, Sandy
#3 (Sept. 2017)
Atlas, Chagra, Forager
#4 (Oct. 2017)
#5 (Nov. 2017
#6 (Nov. 2017)