Superman's Pal, Jimmy Olsen #133-148 (1970–72)
Before the proper launch of his core New Gods titles in 1971, Jack Kirby introduced characters from his new world in Superman's Pal, Jimmy Olsen. Kirby took Olsen into new territory by unleashing a plethora of new characters and concepts. Jimmy's new friends included a second generation of the Newsboy Legion (a strip that Kirby created with Joe Simon in Star-Spangled Comics #7, Apr. 1942). Newsboys Big-Words, Gabby Jr., Tommy, and Scrapper Jr. were joined by a new African American Newsboy, Flipper Dipper, and they drove a high-tech amphibious vehicle called the Whiz Wagon. All of this was funded by Morgan Edge, who was Jimmy and Clark Kent's new boss. Edge was the president of Galaxy Broadcasting System, the new owners of Daily Planet. Edge was secretly in charge of Inter-Gang, a criminal operation, and he found Olsen and Kent to be much too inquisitive. He tried to have Kent bumped off and sent Jimmy on a perilous assignment to the so-called Wild Area (which allowed nobody over 25). Olsen went there with the help of the Newsboys and their Wagon. They were greeted by a biker gang called the Outsiders (the Iron Mask, Vudu, and Yango) and in a fight, and Jimmy actually managed to overcome them — which made him the new leader of the Outsiders. Superman followed them to the Wild Area but was taken down by Yango's gun, which contained kryptonite. When he woke, he witnessed the Habitat, a sprawling arboreal city built by a dropout society. Jimmy's assignment was to uncover the secrets of the Mountain of Judgment, which lay beyond the forest and could be accessed only by a crazy drag strip called the Zoomway. (Superman's Pal Jimmy Olsen #133)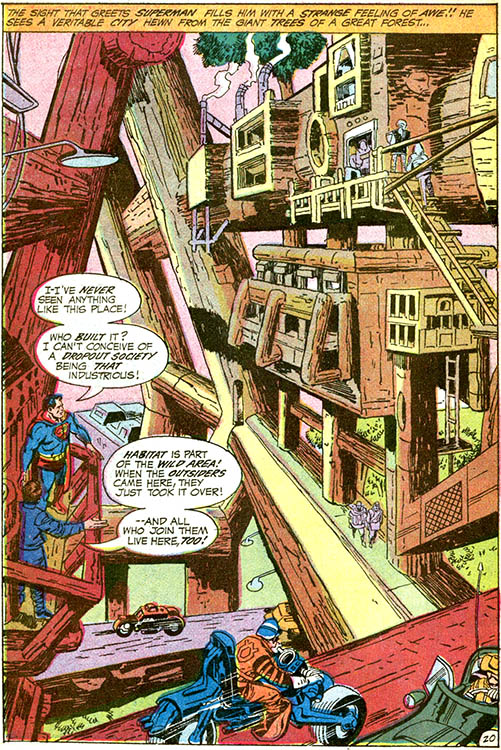 Scrapper filmed their quest through the Zoomway and they discovered that the Mountain of Judgment was actually a gargantuan vehicle. It was the home of the Hairies, a "mobile scientific society" led by a man named Jude. The Hairies kept the Zoomway unnavigable to the outside world. Jude discovered that the Newsboys' camera carried an alpha-bomb, planted by Morgan Edge in hopes of destroying the Hairies for his alien master, Darkseid. After Jimmy returned, Edge reported his failure to Darkseid via videophone. (#134)
The inhabitants of the Wild Area were not New Gods. They were genetically engineered by scientists from the super-secret, underground government research facility called the DNA Project. It was run by the members of the original Newsboy Legion, who were the fathers of Jimmy's friends. The adult Gabby was now a teacher; Big Words a geneticist; Scrapper a social worker; and Tommy a medical doctor. The Project had mastered the human genetic code, could produce people from cells, and manipulate and control them. Elsewhere, Darkseid mirrored their efforts with stolen DNA technology. His project was headed by Simyan and Mokkari, who created a menagerie of monsters. They set one loose on the DNA Project and the senior Newsboys countered with their own warrior, their old friend Jim Harper aka the "golden" Guardian. Harper had recently died in battle and was cloned back to life. (#135) Note: The new Guardian was called Golden Guardian but in successive stories, the "Golden" was dropped. In early issues of Jimmy Olsen used only the name "the Project." Its name was tweaked later and cemented by a backup feature in Jimmy Olsen #142 (Oct. 1971) called "Stories of the D.N.A. Project." The DNA Project was revived and featured extensively in post-Crisis continuity, when it was renamed "the Cadmus Project" by Roger Stern and Ron Frenz in Superman v.2 Annual #2 (1988).
The DNA Project produced "normals" (regular clones), "step-ups" (like the Hairies), and strange advanced level beings dubbed DNAliens. Chief among these was Dubbilex, a freakish horned man who served as a researcher as well as the Project's ambassador to the public. (#136)
Simyan and Mokkari's Four-Armed Terror attacked the Outsiders and destroyed Habitat, (#137) and Superman was forced to destroy a section of the Project in order to destroy the Terror and his kin. (#138)
On the new Guardian's first outing from the Project with Jimmy, he met Clark Kent. The three of them were kidnapped by Inter-Gang thugs led by Ugly Mannheim, who implanted them with a "pyro-granulate" that would cause them to self-immolate in 24 hours. (#139) The Guardian managed to pry the antidote from Mannheim and saved them. Kent was ensnared by Inter-Gang's "dimensional trap" which sent him toward Apokolips. He was rescued by the New God Lightray and returned to Morgan Edge's office via Boom Tube. (#141)
The DNA Project had been no secret to Superman. He met one of their chief scientists, Dabney Donovan, who went rogue and created an entire micro-planet called Transilvane. Under Bloodmoor cemetery, the planet simulated alien environments and was home to the likes of Count Dragorin and Lupek. These freaks escaped and went hunting for Donovan, encountering Jimmy and Superman in the process. (#142) Superman learned that Donovan had been tormenting Transilvane with projected images from horror movies, and the inhabitants morphed into the monsters that they saw. He cleared up the misunderstanding with the Count and his crew (a Frankenstein monster, a female vampire, and a mummy) and prevented Donovan from exterminating the planet. Dragorin's band returned to Transilvane to build new lives. (#143)
Jimmy and the Newsboys uncovered the location of Darkseid's project while investigating the appearance of a lake monster in Loch Trevor, Scotland. Edge sent him there hoping it would be his end. Back in Metropolis, Superman and the Guardian fought another one of Darkseid's gangs, the San Diego Five String Mob. (#144) Locals in Scotland sighted mythical creatures such as the griffin, chimera, unicorn, basilisk, and a red monster with large glowing eyes called Angry Charlie. Jimmy and his friends befriended the monsters and followed them back to the evil factory called Brigadoom. Under the lake they found of Mokkari and Simyan who activated Jimmy's genetic potential and turned him into a mad brute. (#145) Jimmy's rampage freed all the creatures and set off an explosion that destroyed the facility. (#146) Angry Charlie was the only survivor of the Evil Factory and he returned with the Newsboys (with tablets to sedate him).
Back home, Superman intercepted Magnar of New Genesis, who came without explanation and flipped the Man of Steel into a Boom Tube. After a skirmish, they headed for the floating city of Supertown, where Superman met Highfather. He transported Superman back to Earth to help Jimmy and Newsboys. En route from Scotland the Newsboys had stumbled upon a volcano rising from the ocean at the command of the fire-drinking Victor Volcanum. (#147) A century before, Volcanum was a balloonist who was marooned in the volcano and somehow invented a method to distill life-giving extracts from the fires around him. He became immortal and now wanted to be king of the Earth. When Superman caught up with him, he chose to self-destruct rather than be captured. (#148)
These issues of Jimmy Olsen were 48 pages, which allowed for reprints of the Guardian and Newsboy Legion from Star Spangled Comics, as well as a backup titled "Stories of the D.N.A. Project!" In these, readers learned that the Mountain of Judgment was originally a NASA vehicle that transported rockets. It was enlarged and camouflaged by the Hairies. (#142) The first DNAlien was hostile — powerful and unstoppable. It opened fissures in the Zoomway and burnt out on it's own energies. (#143) Early explorers of the Project discovered a lost world underground. They were killed by a primitive-looking man and only a torn photograph survived. (#144) One scientist's creation, Arin, could survive only in the vacuum of space. He was sent to a distant asteroid to store a tissue sample of Superman. (#146) The DNA for Model Four came from a criminal, but he used his ESP power for good, to catch a spy. (#148)
In the final letter column, it was explained that Jack Kirby had "extended himself a bit too far" and had fallen behind in his schedule, so he was "turning the mag over" to Joe Orlando with the next issue. Orlando took Jimmy Olsen in a new direction, although he did pen a story to tie off one of Kirby's plot threads. In issue #152 (Aug./Sept. 1972), Yango returned with the real Morgan Edge, who had been cloned and replaced by Darkseid. Before Superman could confront the fake Edge, Darkseid stepped in and set him up to be killed by a member of Inter-Gang.
Some issues of Superman's Girl Friend, Lois Lane (by Bob Kanigher and Werner Roth) also used Olsen characters such as Mokkari and Simyan. (Lois Lane #111) Lois was attacked by Inter-Gang (#115) and menaced by Desaad at Happyland. (#116) And she learned about Darkseid's Evil Factory and the fact that Morgan Edge was really a clone. (#118-119)
In post-Crisis continuity, writer Roger Stern revived many of the characters and settings from Kirby's run on Jimmy Olsen. He reintroduced the Project as the Cadmus Project in Superman Annual #2 (1988), and writer Karl Kesel celebrated them further in the 1994 mini-series Guardians of Metropolis. (Kesel frequently played with Fourth World characters in his Superman titles.)
Superman's Pal, Jimmy Olsen
Issue
Writer
Artist
Characters
#133 (Oct. 1970)
Jack Kirby
Jimmy Olsen, Superman, Morgan Edge, the Newsboy Legion, the Outsiders
#134 (Dec. 1970)
Jimmy Olsen, Superman, Morgan Edge, the Newsboy Legion, Darkseid, the Hairies, Jude, Darkseid
#135 (Jan. 1971)
Jimmy Olsen, Superman, Morgan Edge, the Newsboy Legion, the original Newsboy Legion, the Hairies, Simyan, Mokkari, the Guardian
#136 (Mar. 1971)
Jimmy Olsen, Superman, Darkseid, the Guardian, the Newsboy Legion, the original Newsboy Legion, Simyan, Mokkari, Dubbilex, the Four-Armed Terror
#137 (Apr. 1971)
Jimmy Olsen, Superman, the Newsboy Legion, Simyan, Mokkari, the Four-Armed Terror, the Outsiders, the Hairies
#138 (June 1971)
Jimmy Olsen, Superman, the Newsboy Legion, the Guardian, Morgan Edge, Simyan, Mokkari, the Four-Armed Terror
#139 (July 1971)
Jimmy Olsen, Superman, the Newsboy Legion, the Guardian, Morgan Edge, Ugly Mannheim
#141 (Sept. 1971)
Jimmy Olsen, Superman, the Newsboy Legion, the Guardian, Morgan Edge, Ugly Mannheim, Lightray, Don Rickles
#142 (Oct. 1971)
Jimmy Olsen, Superman, the Newsboy Legion, Count Dragorin, Lupek,
#143 (Nov. 1971)
Jimmy Olsen, Superman, the Newsboy Legion, Count Dragorin, Lupek
#144 (Dec. 1971)
Jimmy Olsen, Superman, the Newsboy Legion, Morgan Edge, the San Diego Five String Mob, Dubbilex,
#145 (Jan. 1972)
Jimmy Olsen, Superman, the Newsboy Legion, the San Diego Five String Mob, Dubbilex, Angry Charlie, Simyan, Mokkari
#146 (Feb. 1972)
Jimmy Olsen, Superman, the Newsboy Legion, Dubbilex, Simyan, Mokkari
#147 (Mar. 1972)
Jimmy Olsen, Superman, the Newsboy Legion, Angry Charlie, Magnar, Highfather, Victor Volcanum
#148 (Apr. 1972)
Jimmy Olsen, Superman, the Newsboy Legion, Victor Volcanum
#152 (Aug./Sept. 1972)
E. Nelson Bridwell
Mike Sekowsky, and Bob Oksner
Jimmy Olsen, Superman, Yango, Morgan Edge (real and clone), Darkseid