The Jihad
Onslaught
The Jihad is a team of super-powered international terrorists-for-hire operating out of the outlaw nation of Qurac. The team was created and guided by Qurac's President Marlo and had accepted, as its first commission, the assignment of killing the President of the United States. Some of the team's members were bioengineered with the help of traitorous Americans. Former Suicide Squad member Jess Bright (who became a Soviet operative Koshchei) lent his assistance. (Suicide Squad v.1 #50) Also, a secret organization in the U.S. government called the Cabal lent secrets to Qurac in hopes of sharing in their discoveries. (#59-61) However, the Jihad had, at its inception, been infiltrated by Nemesis and Nightshade, members of the advance team of the Suicide Squad, and was the target of a preemptive attack by the Squad. (#1-2)
The original members of the Jihad were:
Rustam is the leader of the group and one of those who had his power before joining the Jihad. Named after a mythic hero in Persian folklore, Rustam is thought to be Irani or Iraqui, in his early thirties with many years experience in terrorist/liberation groups. With a special outswept gesture of his hand, Rustam can summon a blazing scimitar (from where is no known at this time) that seemingly can cut through anything. He died when Rick Flag destroyed Jotunheim. Note: Rustam is the name of a legendary Persian hero.
Jaculi was a young Arab of Bedouin origin, coming from a desert tribe. From the Jihad he gained the ability of moving at super-speeds in spurts of three seconds. His weapons were an assortment of javelins. He was, however, slain in the first encounter with the Suicide Squad by Captain Boomerang.

(S.S. #2)

Note: A jaculi is an arboreal tree snake that has adapted to life in the forest canopy.
The Djinn was the world's first digitized man. His body was reduced to a binary code and stored in microchips within a square magnetic "bottle" about the size of a large Walkman. When triggered, the body was reassembled using pseudoplasm also stored in the bottle. The resultant being, the Djinn, was able to manipulate its density, walk through walls, disrupt computer circuitry and yet manifest itself enough physically to strangle ordinary humans. This Djinn was destroyed when the Enchantress obliterated the magnetic "bottle" that was its home. The technology, however survives. Note: "Djinn" means "genie."
Ravan was the last of the old thugee sect or, as he prefers to think of himself, the first of the new thugee sect. Ravan, whose skills and beliefs were formed before joining the Jihad, is a young sophisticated Indian who attempts to update the thugee beliefs with modern weapons such as a wire garrote and a kris (snake-shaped dagger). He also used small pickaxes with exploding heads. Well-trained in martial arts and at home with the weapons and pleasures of the West, he was a very urban terrorist. His back was broken in battle with the Bronze Tiger who refused, however, to kill him. He died soon thereafter.

(S.S. #47)

Note: Ravan is the name of an Indian demon king and adversary of the god Rama.
Manticore (Anastasio Corvo) was a Greek national hero before joining the Jihad. It's uncertain whether the Manticore wore a battlesuit or was surgically altered; however, it has a lionesque body that also included body armor. The claws on its "paws" could be rapid-fired like a machine gun and each claw was explosive-tipped. In addition, it had a scorpion-like tail that housed a grenade launcher in its "sting." Deadshot killed it by discharging his wrist magnums in its face at pointblank range.

(S.S. #2)

Note: His real name was given in the Blackest Night special, S.S. #67. The Manticore is from ancient Greek mythology; it has the body of a lion, the head of a man and the tail of a scorpion or dragon.
Chimera was actually the Suicide Squad's Nightshade, who infiltrated the Jihad. Likewise, Nemesis went undercover as Col. Mushtaq. Note: The Chimaera is also from the ancient Greeks, a sibling of the Sphinx; it had a lion's body and head, the head of a goat and the tail of a dragon.
Round Two ... Three, Four ...
Following their first clash with the Suicide Squad, the Rustam returned to Qurac to engineer a new team. The Jihad originally operated out of an abandoned German Word War II fortress called Jotunheim, hewn literally out of a mountainside in the Jeb. Akhdar in southern Qurac. The name translates as "Land of the Giants," for the Germans believed only a race of giants could have built it.
Rustam recruited new members from nations with grievances against the U.S. They also used a new volunteer to clone a second Manticore. The second incarnation of the Jihad included Ravan, Rustam, Manticore II and:
Agni, a fire weilder. Note: Agni is the name of an early Hindu god of fire, the mediator between heaven and Earth.
Badb is an Irish girl capable who could mentally instill panic and hatred. Note: Badb was the Celtic goddess of war; she delighted in the chaos and pain of mortal battles, and inspires warriors to frenzied bloodlust.
Ifrit, a new artificial intelligence based on the brain patterns of Mindboggler (who perished during the Squad's first mission to Qurac). Note: Ifrit is the name of a mischievous Turkish demi-god, the son of a dervish.
Jaculi II, a woman with great speed.
Koshchei The Deathless, who was actually former Suicide Squad member, Jess Bright. He could animate the dead. Note: Koshchei the Deathless is from Russian mythology; he's a powerful wizard who symbolizes the reluctance to loosen ones grip on life and pass gracefully into death.
This team struck New York City with individual terrorist acts. Their mission was to capture the Suicide Squad and return them to Qurac—where they'd been tried in absentia and sentenced to death. Ravan had been fitted with an exoskeleton which allowed him to overcome his broken spine. Nevertheless, he, Ifrit and Agni were captured. Rustam and Badb escaped; Manticore was killed by the Duchess, and Jaculi was shot by Deadshot. (S.S. #17-18)
Through a twist of fate, Ravan was captured by and recruited to join the Suicide Squad itself. (#24) Waller also began to attempt to liberate Mindboggler's essence from the programming of Ifrit. Soon thereafter, Rick Flag undertook an unauthorized mission to Qurac and destroyed Jotunheim (and killed Rustam; #25). Ravan's end came in Israel. Waller was contacted by an Egyptian man named Nazair who claimed that even though Kobra was in Israel, he was a threat to Egypt's interests as well. Kobra killed Ravan and Ravan's body was supposedly shipped back to India. (#47) New information, however, suggests that he may still be alive. (S.S. v.2 #10)
Agni's next move was to try to free Marlo from U.S. custody. He again teamed with Badb and a new water-breathing member, Piscator (a Janissary). The Suicide Squad received advance notice of this attempt and switched Marlo with Nemesis. At the same time, Israel's heroes, the Hayoth also descended on U.S. soil seeking to take Marlo. For once, the Jihad escaped fatalities. The fates of Badb and Piscator are unknown, but Agni kept on, especially after Qurac was destroyed by Cheshire. (Deathstroke #19) He assembled yet another team with the help of...
A man named Njara Kattuah, their new leader. He was, effectively, Rustam II. He was the son of the first Rustam and weilded the same flaming scimitar.
Dervish, a woman named Nema, a martial artist. Note: A dervish is any member of a mystic Muslim fraternity.
The original Djinn, restored.
Manticore III, a newly engineered Manticore named Saied, with romantic ties to Dervish.
Dahak, a demon who used the body of an old woman as its host. Note: Dahak is the name of the Persian god of evil.
This team's mission of vengeance against America was short-lived. Chekmate agents were able to track the Jihad as far as Markovia, but the terrorists made their way onto an airplane bound for Gotham City. On board, they were discovered by the Outsiders, whom they battled mid-flight. Manticore and Dahak seemed to have perished in the battle. (Outsiders v.2 #5-6) Soon after their crash landing in Gotham, the suriving members dispersed. Note: The letters column of issue #11 casts doubts on the deaths of the Jihad members.
Dervish was captured but escaped and hooked up with the Outsiders. She had hoped to buy time enough to find Manticore (whom she did not realize was dead; Outsiders v.2 #9). She remained with the Outsiders briefly, as a nominal member until she discovered that Wylde had killed Manticore. (#10-11) She left in anger and joined the second Strike Force Kobra, led by Eve. (Outsiders v.2 #16) After she was captured, Dervish was imprisoned in the Slab. (Green Lantern v.3 #79) She escaped again when Joker engineered a jailbreak. (Joker: Last Laugh #3)
Before the end of Waller's Suicide Squad, she did succeed in freeing Mindboggler (Leah Wasserman) from the Ifrit. This was done with the help of the Hayoth's Dybbuk. Leah and Dybbuk were engaged to be married. (S.S. #63)
Onslaught
Njara later returned with a new team including Antiphon, Tolteca, Hyve and a new more powerful incarnation of the Djinn. (Suicide Squad v.2 #10) They call themselves Onslaught. They succeeded in kidnapping Waller in revenge and killing Havana and Modem. They were no match for the Squad when members of the JSA were drafted to help. Rustam II was killed by Deadshot and the others escaped. NOTES: Antiphon is the name of an ancient Greek orator. The Toltecs were a post-Mayan society in Mexico.
More recently, a fourth Manticore (from Greece) has surfaced, as a member of the Global Guardians. (Green Lantern v.3 #10)
» FIRST APPEARANCE: Suicide Squad v.1 #1 (May 1987)
» FEATURED APPEARANCES: Suicide Squad v.1 #1-2, 17-18, 26, 59-61 • Outsiders v.2 #5-6, 9
Member

1st app.

Status

1.
Chimera (Nightshade, Eve Eden)
Suicide Squad #1
Active in adventuring
1.
Djinn
Status uncertain; captured by authorities Outsiders v.2 #6
1.
Jaculi
Deceased Suicide Squad v.1 #2
1.
Manticore
Deceased Suicide Squad v.1 #2
1.
Ravan
Uncertain; presumed deceased Suicide Squad v.1 #47
1.
Rustam (Raza Kattuah)
Deceased Suicide Squad: Raise the Flag #3
7.
Angi
Suicide Squad #17
Status uncertain; at large
7.
Badb
Status uncertain; at large
7.
Ifrit (Mindboggler)
Active; "cured" of evil tendencies
7.
Jaculi II
Deceased Suicide Squad v.1 #18
7.
Manticore II
Deceased Suicide Squad v.1 #18
7.
Koshchei the Deathless (Jess Bright)
Deceased Suicide Squad v.1 #50
13.
Piscator
Suicide Squad #60
Status uncertain; at large
14.
Dahak
Outsiders v.2 #5
Presumed deceased Outsiders #6
14.
Dervish (Nema)
Active in villainy
14.
Manticore III (Saied)
Presumed deceased Outsiders #6
14.
Rustam II (Njara Kattuah)
Killed by Deadshot, Suicide Squad v.2 #12

ONSLAUGHT

18.
Antiphon
Suicide Squad v.2 #10
Active in Onslaught
18.
Digital Djinn
Active in Onslaught
18.
Hyve
Active in Onslaught
18.
Tolteca
Active in Onslaught
Just'a Lotta Animals (Earth-26)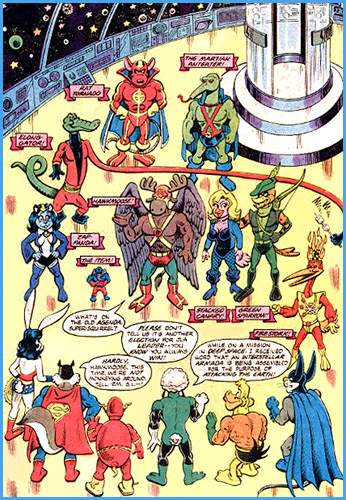 Just'a Lotta Animals inhabit a dimension of Earth-26 which they call "Earth-C-Minus." There, people are anthropomorphic versions of their counterparts on New Earth. At first, these cartoon animals were believed to be merely comic characters on "Earth-C," (Earth-26) the home of the mighty Captain Carrot and his Amazing Zoo Crew. The Zoo Crew eventually discovered that Just'a Lotta Animals truly did exist when the JLA's foe, Amazoo materialized on Earth-C. When Rodney Rabbit returned to his artist's studio, he was shocked to discover the Animals themselves had come to pay him a visit!
It seems that the six founders had sent the other members back in time to battle Kangar-Roo, but then they fell victim to a spell by Feline Faust. Faust's magicks sent the JLA to Earth-C. Naturally, they sought help from that Earth's heroes — the Zoo Crew! The two teams teamed up and sought further help from the JLA's retired "creator," Gardener F. Fox. Fox hypothesized that their Earths occupied the same space, but vibrated at different frequencies and that somehow, he had subconsciously tapped into the events on Earth-C-Minus while writing comic books.
Unfortunately, the teams' foes had also discovered how to traverse the barrier between worlds, and began plotting against them. They split up to battle villains such as Armordillo and the Shaggy Dog and deduced that these battles were a ruse engineered by Faust to keep them away from Earth-C-Minus. (CC #14)
Before successfully arriving on Earth-C-Minus, the teams bounced across several other Earths (including Earth-2, one of Disney characters and another of Tom and Jerry). It was the sorcerous powers of Alley-Kat-Abra that finally felled Faust. But when it was time to part ways, Wonder Wabbit and Captain Carrot found they had feelings for one another — sparking jealousy from Super-Squirrel. (CC #15)
Crisis!
The Zoo Crew called upon Just'a Lotta Animals once again, when their Earth was threatened by Starro and the nefarious Rash Al Paca. These villains succeeded in flooding Earth and created strife between land- and sea-dwelling peoples. (CC: The Final Ark #1-2) To summon the JLA, Captain Carrot created a full comic book starring the JLA. The sale of this comic constituted "unlawful manufacture," which prompted the JLA's lawyer to intervene. The plan worked, and the Animals — Green Lambkin, Crash, Elongator, Hawkmoose, Zapanda and Batmouse — arrived to help the Zoo Crew herd people onto Barton Boa's Ark. The Ark was intended to shuttle refugees to Earth C-Minus, but an intervention by the New Dogs (Orihound, Lightstray and Muttron) caused the Ark to be diverted to New Earth. On New Earth, the once fully sentient animals manifested as normal New Earth animals. The drew the attention of the Justice League, and Zatanna adopted Captain Carrot to be her stage rabbit. All the animals on the Ark remain on New Earth, unable to communicate their predicament. (#3)
Just'a Lotta Animals operate out of an orbiting satellite. Their membership was composed of animal versions of the original Earth-One Justice League:
Aquaduck, amphibious avenger of the Seven Seas — the greatest swimmer since Esturtle Williams!
Batmouse, who, with his sidekick Boyd, The Robin Wonder, wages a never-ending war on such bizarre criminals as the Porker!
The Crash, the fastest animal alive, who fights super-scientific villains like Weather Weasel!
The Elongator
Firestork
Green Lambkin, stargrazing guardian of space who combats Hector Hamhock and other futuristic felons!
Green Sparrow
Hawkmoose
The Item
The Martian Ant-eater
Rat Tornado
Stacked Canary
Super-Squirrel, last survivor of Chipton, the first and most powerful super-hero of them all, as his foe Lex Lemur learned!
Wonder Wabbit, gorgeous Animalzon princess from Parrot-Eyes Island!
Zap-Panda
Notes
Just'a Lotta Animals were actually first mentioned in Captain Carrot's first appearance, New Teen Titans #16 (1982). Rodney Rabbit's studio shows images of Wonder Wabbit, Super-Squirrel, Batmouse and Aquaduck. Captain Carrot, as well as a "Post-Crisis" version of Just'a Lotta Animals made cameo appearances in JLA: World Without Grownups #2.
» FIRST APPEARANCE: Captain Carrot and his Amazing Zoo Crew #14-15 (April-May 1983)
» SEE ALSO: Some ... sorta ... creative folks created a fan fictional off-shoot of the Animals, based on the Legion, called Lotta Species Heroes. Read all about it! So... which fuzzy Legionnaire would you wanna #$@!?