Big Science Action
The Super Young Team's Japanese predecessors were a group of "Silver Age" heroes. The team first came together during a war began with the Ultimon (Ultimate Monster Killers) in battle against a trio of colonizers called the Scarrba Clan: Scarrba the Protector, a Hydra-like being with death rays; Kry-Torr the Burrower with centipede-like legs; and Lorloxx the Layer who laid monster-hatching eggs. Then the master Ultimon died, he transferred the last of his powers to his apprentice, Dai Yokohama. Though the last of the Ultimon defeated the Scarrba Clan, an army of monsters rose from the smoke and ruin. As the new Ultimon prepared to die in performance of his duty, in defense of Tokyo, the sun rose... and out of the sun came Japan's defenders to his aid. Never before had they teamed together, but that day demanded a miracle. They were originally led by ...
Rising Sun (Isuma Yasunari), known in the West more for his membership in the Global Guardians. He can control and radiate light waves, and project great heat. He draws from the sun's magnetic field to defy gravity.
Boss Bosozuko was a hot-headed, nuclear man. He rode a nuclear-powered motorcycle. He has been succeeded by Boss Bishonen; his final fate is unrevealed.
Cosmo Racer is a robot child from space, lost and unable to find his home world. He skates on interstellar roller boots at the speed of sound. He remains active with the team today.
Goraiko (or some earlier predecessor), an atomic synthetic being that later became a member the Ultramarine Corps. ("Goraiko" means "holy light.")
Hammersuit Zero-X (Miss Kusanagi), walking proof of Japan's technological prowess! Gundam meets Gigantor with huge steam-hammer hands -- spunky young girl scientist schoolgirl has created this giant robot suit to run around and right wrongs in. She remains active with the team today.
Sunburst (Takeo Sato). Sato was a Japanese film star who gained solar powers. His current status is unknown.
Junior Waveman (Riki Kimura, now Senior Waveman II), who was saved by the society of Wavemen when his parents' yacht was terrorized by a sea monster. His parents died and Kimura was raised by Senior Waveman Otomo (now deceased). The Junior Waveman secretly loved his mentor's daughter, and they conceived a daughter who became the Super Young Team's Aquazon.
Ultimon-Alpha (Dai Yokohama), is the supreme monster-killer, one of an entire secret society of the saem. The Ultimon are super-samurai with advanced technology and weapons. (He is based on real world TV hero, Ultraman)
After their first battle, they established a headquarters, a halo-shaped base that hovers above the great Mount Fuji.
The only recorded battle of the original team was against the villain Fushikuraje at Mount Fuji. (Final Crisis #2)
Boss Bishonen, the successor to Boss Bosozuko

NOTES:

In the Final Crisis Sketchbook, Boss Bosozuko is drawn in the manner we later see his successor, Boss Bishonen.
Nazo Baluda, "dark Star stealth warrior" and recent recruit.

NOTES:

In Dance #4, Nazo says that her first case was against Scarrba Clan, however this was case, described by Grant Morrison, that brought BSA together for the first time.
Shiny Happy Aquazon (Kim Kimura). Super strong, and good in the water.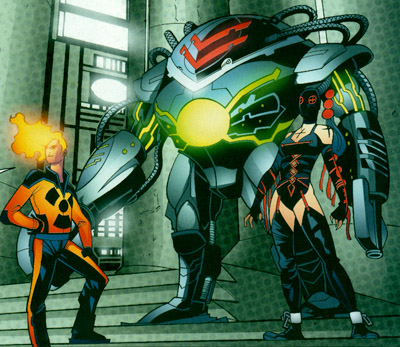 Notes
Of Big Science Action, Grant Morrisson said "Imagine a Japanese Justice League made up of Ultraman, Astro Boy, Marine Boy, Gigantor, etc., fighting Godzilla and Mothra."
» FIRST APPEARANCE: Previewed: Final Crisis Sketchbook (July 2008); in action: Final Crisis #2 (August 2008)
» SERIES: Final Crisis Aftermath: Dance, 6-issue limited series (2009)
» SEE ALSO: