Tor
Created by Fred Guardineer
NAME + ALIASES:
James "Jimmy" Slade
KNOWN RELATIVES:
None
GROUP AFFILIATIONS:
All-Star Squadraon
FIRST APPEARANCE:
Crack Comics #10 (Feb. 1941)

APPEARANCES:
All-Star Comics v.2 #1 (May 1999)
Crack Comics #10-26 (Feb. 1941–Nov. 1942)
SEE ALSO:
History
Both of the magicians, Merlin and Tor, were at one point written and drawn by Fred Guardineer (who had previously created the magician Zatara for DC's groundbreaking Action Comics #1 in 1938). Guardineer stayed at DC only into 1940 (Action #29, Oct. 1940 was his last on Zatara). At Quality, he created Tor (Crack #1, Feb. 1941) and soon after took over "Merlin" as well, with National #12 (June 1941). According to Alter Ego #21, Dan Zolnerowich worked for the Iger shop at this time, but Guardineer did not. (Both signed the strip "Lance Blackwood.") Guardineer also created a fourth magician that ran simultaneous to Zatara, Marvelo, in Columbia's Big Shot Comics #1–10 (May 1940–Feb. 1941).
Guardineer's artwork was spectacular, but he spent little effort in distinguishing the magicians from one another—or from his other works. Like Zatara, both Merlin and Tor sported moustaches, plus capes over their tuxedos (Merlin added a hood). But most significantly, under Guardineer both Quality magicians began speaking their spells backwards at the same time (but not at their inceptions). Merlin only began speaking reverse spells when Guardineer took over (National #12). And although Guardineer worked on Tor from its debut, that hero only began speaking in reverse around the same time (Crack #14, July 1941). Both series also ended at the same time, but Guardineer's work continued appear at Quality through 1944.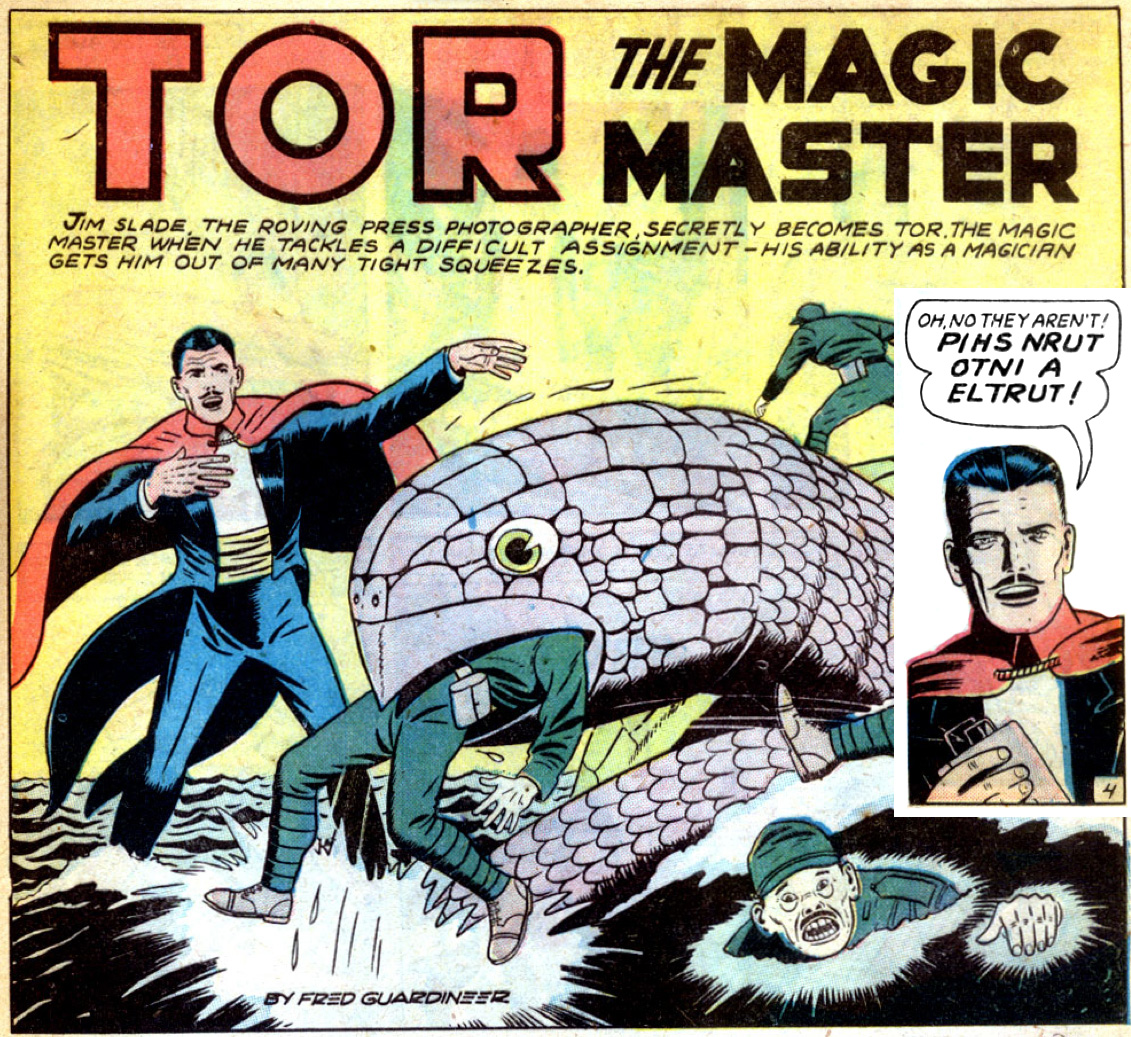 Tor was an everyman—press photographer Jimmy Slade. With but the addition of a fake mustache and cape, Slade fought crime as Tor the Magic Master. Tor's powers were in line with the contemporary pop culture ideas of magic: mind control, illusions, telekinesis, transfiguration. Like other hero/photographer characters, Tor used his adventures as material for Slade's photo assignments, and vice versa.
Slade's colleague, reporter Lucy Stone, often found herself in jeopardy during Tor's escapades. Of course, after the criminals were arrested, Jim had the best photos of the deal. (Crack #11)
…
[ Read the full profile in the Quality Companion ]
DC
Tor might have been a member of the wartime group called the All-Star Squadron. His only appearance in a DC comic was as part of the "Justice Society Returns" event. In February 1945, Tor threw in with a group of mystics against a villain called Stalker. He died that day. (All-Star Comics, v.2 #1)
Notes
Quality's Tor has nothing to do with the popular hero of the same name, created by Joe Kubert. He was a Tarzan analog that debuted in St. John's 3-D Comics in 1953 and was later published by DC.
+ Powers
Tor was more modestly powered at first, limited to zapping stuff. Using Guardineer's backwards-spoken spells, his powers became near-limitless. He could transform objects, but more frequently himself. He would shrink, grow wings, stretch, and could become immaterial and invulnerable.